Bosch develops software approach to monitoring and control
Published: 11 December, 2004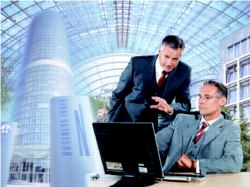 Power to control — the Bosch Building Integration System enables technical equipment from different manufacturers to be controlled and monitored.
To integrate the control and monitoring of different manufacturers' technical equipment in buildings, Bosch has extended its range of building-management systems with the launch of a new building-integration system.
This software has a modular structure and can monitor emergency alarm systems, access control, security and CCTV surveillance systems, heating and air conditioning — all using a common Windows graphical interface.
Called BIS, it can monitor heating, security and fire systems etc. continuously and report any defects to a monitoring centre. BIS can can use existing floor plans that have been generated by the architect or used for the layout of the FM system. The interface is a web browser.
BIS can readily be integrated into an existing computer network. The operator can customise the user interface and alarm documents with standard web editors and design them specifically for various user groups or alarm situations. The open interface standard OPC guarantees easy links to subsystems from different manufacturers.
Bosch summarises BIS as providing users with a platform for comprehensive building management that improves overall control
comments powered by

Disqus