Chilled water challenges VRF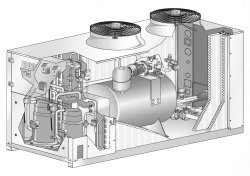 In Italy, chilled-water air conditioning has resisted the onslaught of VRF by continuing to innovate — and the benefits are being made available in the UK.If the UK market for air conditioning based on chilled water and fan-coil units is under attack by VRF systems, the Italian market is thriving. At one of Italy's leading manufacturers of chillers and fan-coil units, innovation continues — as does investment in new production techniques to keep manufacture in Italy and not outsourced to the Far East. The production area for fan-coil units was totally revamped earlier this year and bristles with robot handling equipment.
Tradition
Air-conditioning traditions in the UK and Italy are quite different. In the UK, most buildings were not air conditioned when they were originally built. In Italy, with its warmer climate, air conditioning has long been the norm — including housing. And that air conditioning has been provided using air-cooled chillers and fan-coil units. One of Italy's leading manufacturers, Aermec, for example, offers a water-cooled chiller with a cooling capacity of 2 kW. Increasingly, the UK market has been led by refurbishment projects based on VRF technology — with its relative ease of installation in existing buildings compared with chilled water and fan-coil units. And as VRF technology has developed, the number of indoor units served by one outdoor unit has increased, as have the permissible length of pipe runs and vertical displacement.
Free cooling
Aermec's strong position in the Italian market is built on a programme of innovation which has led to the development of a range of chillers with an advanced approach to free cooling that enables an energy-efficiency ratio up to 10 times higher than compressor-only chillers, depending on ambient temperature. According to operational analyses carried out by Aermec for a computer-room air-conditioning application with a cooling capacity of 132 kW 24 hours a day, the payback for one ot the company's NRA 650 chillers with free cooling would be just seven months compared with the same model without free cooling. For six months of the year from October to March, free cooling comes very much into its own. Even in April and September, some free cooling can be achieved. Aermec's approach is based on combining free cooling and compressor operation at the same time — not just one or the other. This is achieved by separate circuits for refrigerant and chilled water in each of the two condensing coils in the ratio 60/40 refrigerant/water. A 3-way valve diverts some, or all, of the return water from the system through the water circuit to reject heat before it enters the evaporator. With chilled water off at 7°C and returning at 12°C, free cooling can begin to be exploited when the ambient air falls to 11°C, even though the compressors continue operating. By the time the outside air temperature has fallen to about 1.5°C, none of the four compressors are required to operate, and free cooling alone is adequate. When the chiller is operating with free cooling and compressor operation, the fans are run at maximum speed — so as to maximise the free-cooling benefit. When free-cooling alone is adequate to meet requirements, the fan speed is modulated.
Dramatic
The effect on energy-efficiency ratio is dramatic. Above about 10°C, the EER is 2.5. At 5°C, it has increased to about 9, and is greater than 30 at 0°C when the compressors are no longer required to operate. This method of free cooling works best with four compressors. The effectiveness of modulation declines with three and two compressors. Aermec in the UK is represented by AiAx, whose managing director Brian Phillips reports that Aermec fan-coil units are increasing market share in the UK because their performance is certified by Eurovent, whereas most fan coils sold in the UK market have no performance certification. Also, every chiller is subjected to full-load operating testing at the end of production. Aermec chillers are also noted for their low-noise characteristics. He believes that the combination of efficient chillers with free cooling and Eurovent-certified fan-coil units puts the company in a strong position to compete with VRF systems — the more so since there is no refrigerant in the occupied space, just chilled water. He believes that new EU regulations for the safe handling of refrigerant gases will strengthen the case for chilled water by eliminating any possible need for regular inspections of pipework in occupied spaces such as offices. The current generation of chillers uses R407C, but with the traditional shell-and-tube heat exchanger replaced with a plate heat exchanger to minimise the effect of glide with this 3-component refrigerant.
Responding
The UK market is responding to the Aermec product offering, and Brian Phillips tells us that an order for a recent UK project comprised around £60 000 for fan-coil units, two chillers totalling £5000 and 10 air-handling units, which Aermec also manufactures, amounting to £50 000.
AiAX (UK) Ltd is at Horizon House, Azalea Drive, Swanley, Kent BR8 8JR
aiax.sales@aermec.co.uk