Stud fixing boosts Gripple's effectiveness
Published: 16 January, 2005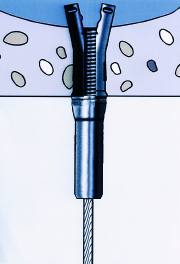 A neat and fast way of securing Gripple hangers into concrete structures is provided by stud fixings from CCL Veloduct.
CCL Veloduct offers an M8 stud fixing that provides a very quick method of securing the Gripple hanger for suspending services such as ductwork from a concrete structure. The installer has only to screw the stud end into a drop-in anchor supplied with the kit, and the Gripple fixing is ready for use.
M8 is the fixing size most commonly used for ductwork, but studs can also be supplied threaded to M6. Both types are available in hollow-core anchor form for mounting hangers in hollow-core ceiling slabs.
When required, studs can also be fixed to metal brackets with nuts supplied by CCL Veloduct as part of a site package.
comments powered by

Disqus