Faber Maunsell is integrated into AECOM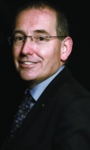 The Faber Maunsell name, so well known on the UK consulting-engineering scene for many years, is disappearing as part of the worldwide integration of AECOM brands and operations to provide better co-ordination of AECOM expertise and resources across business lines and regions. The business lines are transportation, planning and design, building engineering, government services, environment, water, energy and power, and programme management.
Within Europe, Faber Maunsell is rebranding to become AECOM Europe Ltd, to be known as AECOM.
Ken Dalton, CEO of Faber Maunsell, will be responsible for the new European entity as group chief executive of AECOM Europe.
Ant Wilson, a director of Faber Maunsell and one of AECOM's "thought leaders" for building engineering, welcomes the reorganisation for bringing together AECOM's extensive engineering expertise across many disciplines throughout the world and highlighting the extent of capabilities within the group.
According to the results of a survey published in the US journal 'Engineering News Record' in April 2009, AECOM globally is the No' 1 pure design company and is also No' 1 in other areas such as transportation, general building and hazardous waste.
Ant Wilson tells us that his part of Faber Maunsell will be in the AECOM Building Engineering Business Line.
It was in 2001 that AECOM acquired Oscar Faber. In 2002 Faber was merged with Maunsell, since when the company has grown from around 2000 staff to around 3000. Faber Maunsell quickly grew from being a middle-sized company to a global company under AECOM.
Ant Wilson is confident that the AECOM rebranding will lead to the former Faber Maunsell winning more work globally, especially with the backing of AECOM's financial strength in the current economic climate.
The Faber Maunsell team will also be able to tap into other building-engineering expertise across the world, and the rest of the world will be able to draw on Faber Maunsell's expertise.
For example, when Faber Maunsell won a contract for the Halley Research Station in Antarctica in a RIBA international competition, it was able to draw on expertise within AECOM that included the US station at the South Pole and two people with over 50 years' experience between them working in Antarctica.
Ant Wilson concludes, 'These are exciting times, The AECOM rebranding is a positive move that presents opportunities for everyone within the organisation in a global market.'
Related links: