Building services grow in sophistication and importance — The second 25 years (1930 to 1954)
Despite the economic difficulties of the 1930s and 1940s, building services grew in importance — and air conditioning was installed in a number of prestige buildings. Education and training needs received serious attention.The second 25 years of HVCA's history saw building services grow in importance and significance. More and more boilers were oil fired, moving on from coal.
Air conditioning
The use of mechanical ventilation grew, and air conditioning began to establish itself — first in industry and then to improve comfort in commercial buildings. Prestige cinemas and theatres were among the first buildings to have air conditioning installed, as well as restaurants and public rooms in luxury hotels, but very few offices installed air conditioning. Demarcation disputes between heating fitters and plumbers worsened, largely because of the deteriorating economic situation. The National Association of Heating, Ventilating & Domestic Engineering Employees tried to resolve the dispute. A ballot on merging the fitters' and plumbers' unions in 1934 resulted in the plumbers' union voting strongly in favour — but the fitters' union voted against. The Second World War impacted directly on the association, with an air raid closing its offices in Russell Square in London in September 1940. Temporary accommodation was found in the offices of the Federation of British Industry in Tothill Street and then in Millbank House on the Embankment. until 1949, when it moved to 58 Victoria Street. The war also impacted on the association's membership. The factories and workshops of some companies produced munitions, machine tools, bridges, radar towers and fire pumps. Other companies provided services for factories, military operations and defence requirements. Industry expertise was also applied to improving ventilation on ships used for carrying troops. Air conditioning received a significant boost as it was installed in underground operations rooms and defence works. Fuel shortages saw oil-fired boilers converted to burn creosote pitch.
Peace-time
Efforts to return to peace-time output in the immediate post-war period were hampered by shortages of materials and Government controls. Fuel shortages pushed energy efficiency into the limelight.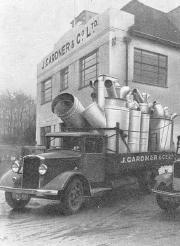 Education and training were increasingly being recognised as important issues. 1944 saw the first steps taken by the association to create the National College for Heating, Ventilating, Refrigeration & Fan Engineering. A voluntary training levy was introduced to fund this college and provide bursaries. Five years later in 1949, an education levy was established. By 1948, the national college had its own purpose-designed building next to the Borough Polytechnic in London. More attention was directed at apprenticeships, with apprenticeship agreements being revised at the end of the 1940s and the Joint Industrial Council intensifying its work on apprenticeship matters. The association continued to develop its commercial and technical roles with daywork agreements based on standard costs and the publication of standard conditions of trading in 1947. A standard practice for pipe gas welding was produced in 1945.
Specialist group
The first of what were to become four specialist groups was formed in 1945. Problems with the post-war supply of steel and labour difficulties led to contractors involved in manufacturing and installing ductwork forming the Ductwork Group. After the various trials of the 1930s and 1940s, the building-services industry was returning to normality by the 1950s. The recovery was driven by the rebuilding of war-damaged London and other cities such as Coventry, Bristol and Plymouth. At the end of 50 years after its formation, the association had 328 members and accounted for over a thousand indentured apprentices.
Pay
In 1951, fitters in London enjoyed a pay rate of the equivalent of 19 p an hour, and their lodgings allowance was the equivalent of 37.5 p a night – up from 7.5 p in 1911.