Hands-free water economy and hygiene
With hot water costing at least five times more than cold water comes the need to use water economically. Bob Purdom outlines a range of solutions.
Two key issues affecting everyone using the UK's vast estate of private and public buildings need to be addressed urgently.
The first issue is water sustainability. With our underground resources threatened by increasing consumption (water usage has doubled in the last 20 years), water supply is fast becoming an unpredictable, unevenly distributed resource — particularly across Southern England. Effective water-management control must be incorporated into all new commercial buildings and as part of building upgrades and refurbishments.
The second issue is hygiene, and the increasing risk of cross infections. This issue is not exclusive to healthcare areas; it also concerns those involved in industry, food preparation, commercial offices, education and motorway services facilities. Studies reveal that effective hand-wash protocols are not always followed — most surprisingly not even by healthcare staff.
Whilst preventing all risk is the ultimate goal, simple hand-wash protocols using soap and water can offer staff in the commercial environment improved basic hygiene and provide protection against possible cross-contamination of MRSA and other infections.
Today, time-flow and non-touch taps are recognised as best practice in commercial and public buildings as part of a total-design solution. They offer building owners, users and facilities managers simple, effective control of water and improved staff hygiene, and will contribute to achieving optimal BREEAM ratings.
New-generation time-flow and non-touch taps incorporate integral flow regulation to maximise water savings. For example, the Douglas Delabie Tempostop time-flow basin tap is factory set to deliver an economic 4 l/minute. The flow rate adjustment is quick and simple using an Allen key. In some public buildings where there may be the potential for deliberate abuse, the Tempostop AB (anti blocking) allows water to flow only after the push button is released. It self closes after 15 s.
For the very young and older people, the hand pressure required to operate a traditional time-flow tap can be difficult. Our solution is the Temposoft tap and mixer with a push action taps that requires only half the operational force of other taps.
The self-close action eliminates the need to touch the tap after hand washing and prevents any cross contamination of bacteria. With flow regulated at 4 l/min, water savings of about 70% can be achieved compared with the traditional basin tap. Other features include scale-proof flow straightener and reinforced fixings to prevent tap swivel.
Infra-red electronic taps and mixers are now used extensively, and some now incorporate an anti-legionella automatic flush device to prevent water stagnation and bacteria growing in the supply pipes.
For example the Tempomatic 3 for public and commercial applications provides automatic shut-off after hands are removed and an automatic one-minute duty flush cycle 24 hours after the last use. Electronic control, solenoid valve and 6 V lithium batteries are built inside the tap body. The pre-set flow rate of 5 l/min enables water savings of up to 80% compared with traditional mixers and taps.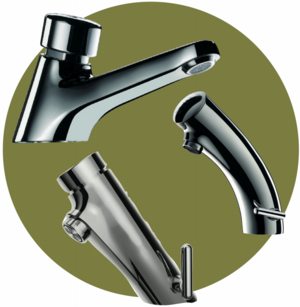 Thermostatic mixing valves (TMVs), independently tested/certified under the BuildCert TMV3 scheme, are now a standard feature of modern commercial washrooms, providing safe hot-water temperatures and preventing scalding.
The latest Building Regulations Revision Part G sets out the new requirement for TMVs to be installed in all new homes in England and Wales as an anti-scald device for baths. This is already included in Scotland's Building Regulations.
With water costs continuing to escalate and hot water costing five to eight times more than cold water, the impact of potential water savings on the bottom line for high water users can be dramatic.
Building-services profess­ionals have the knowledge, experience and the network of manufacturer contacts, to provide building owners and managers with simple, cost-effective and proven solutions to address the key issues of water sustainability and hygiene.
Effective water management and improved hygiene go hand-in-hand, and, when combined with anti-scald safety, will deliver building owners and users a better-built environment with enhanced performance, improved hygiene and savings in energy and water consumption.
Bob Purdom is commercial director at Douglas Delabie.
Related links:
Related articles: