The flexibility of busbars under raised floors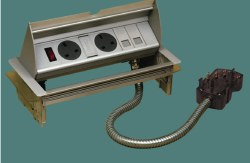 Quick to install and quick to respond to changes — that is how ALAN POTTERTON perceives the benefits of flexible prewired systems under raised floors.The constant evolution of equipment and facilities in offices and the continuous coming and going of personnel mean that there are huge benefits for most cable-management manufacturers in providing pre-wired and modular solutions.
Flexible and efficient
In most prestigious modern offices, the use of raised floors has allowed the development of flexible, pre-wired underfloor systems to provide efficient power distribution. Developments of underfloor busbar have resulted in 50 or 63 A powertrack systems available in standard, dual, auxiliary, clean-earth or 3-phase versions. Key- and colour-coded snap-fit couplers, tap-offs and feed units can make it really simple for the installer to connect these fittings to the powertrack in a matter of seconds and with minimum risk of error. Floor boxes, grommets and desk modules can all be pre-wired and configured to whatever is appropriate for the application. Integrated tap-offs can be plugged directly in to the powertrack at any appropriate position.
Power and data
The best desk modules on the market today are made from high-quality aluminium and configured to meet all power and data requirements to BS6396. They have internal segregation for power and data and include various switching and fusing options. Modules can include a number of sockets that can be orientated at various angles to help prevent cable stress and provide flexible, extendable, vertical or horizontal desktop solutions Moulded units are also available and can be panel-mounted using industry standard pitched flanges. Some units are available with an optional connector that gives easy plug-in connection after installation. Simplicity and speed, plug and go — for the cable-management manufacturer, this viewpoint dominates development at present.
Alan Potterton is sales director for cable management with Marshall-Tufflex Ltd, Churchfield Industrial Estate, Hastings, East Sussex TN38 9PU
Related links: