Compliance pays
While the CRC Energy Efficiency Scheme puts a new focus on reducing carbon, John Durbin believes that it is time to turn around thinking on compliance with carbon reduction and energy legislation to achieve genuine energy cost savings and bottom line improvements — with a reduction in carbon emissions being simply a welcome side effect.
The registration period for the CRC Energy Efficiency Scheme has now closed and all qualifying organisations, typically large private and public sector organisations such as supermarkets, banks and local authorities, should have registered by 30 September 2010. Qualifying organisations which have failed to register can be fined £5000 plus a further £500 for each subsequent working day of delay for up to 80 working days.
Despite these draconian measures, and the threat of non-compliance being published, it seems highly likely that many organisations will have failed to deliver their registration details on time, based on response rates to other new legislation.
There has been what can only be described as wholesale apathy to the requirement for air-conditioning inspections in 2010, as stipulated by the Energy Performance in Buildings Directive (EPBD). The Chartered Institution of Building Services Engineers (CIBSE) estimates that fewer than 5% of buildings with air-conditioning systems above 12 kW have been inspected so far, even though the compliance date of 4 January 2011 is looming fast.
Whilst for building occupiers and managers, these deadlines may feel like the latest in a long line of legislative demands to be met, the fact is that system inspections will deliver detailed and invaluable reports, not only about how an air-conditioning system is functioning at the point of inspection, but also how to make performance improvements moving forward.
Embracing the EPBD reporting process could be seen as being the first step in taking a more holistic overview of a building's climate control systems. Efficiencies can also be improved by examining how the real-life performance of an air-conditioning system might vary from its predicted performance. By assessing and then improving real-life performance, huge cost savings are possible.
Remote monitoring can assist this process by gathering and analysing data from a system so that any abnormalities can be picked up at an early stage, thus preventing future failures and reducing possible downtime. The very best remote monitoring systems can also offer an energy-saving function that remotely adjusts the operating parameters of air conditioners to ensure optimum energy efficiency. By optimising the system's operational parameters, the lifespan of the equipment can also be increased.
Whatever the building — care home, hotel, office block or retail outlet — current usage patterns and occupancy levels should also be analysed, as this may well have changed since the construction of the building, or occupation by its current user. By better understanding the building's current requirements and system performance, a decision can be made whether it is advantageous to upgrade the system to meet current and future requirements, while also enhancing energy efficiency.
Climate-control systems that are not currently using heat-recovery techniques can have this technology retrofitted to achieve major energy-efficiency improvements. Heat generated from areas such as IT suites, commercial kitchens or telecoms storage areas can be recovered and reused elsewhere in the building, such as the provision of hot water or for door air curtains. Given that this is such a low-cost source of heat and hot water, the aim must be to reject heat only after every other avenue for its use has been explored.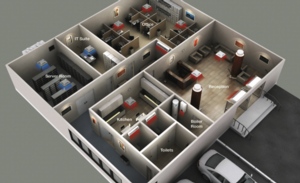 Elsewhere, heat-reclamation units incor­porating specially developed heat-exchange elements can be used in the ventilation process. Heat recovered from exhaust air can be transferred to the fresh-air supply being delivered to that room. The net result is a further reduction in the cooling/heating load on the air conditioning system.
Such heat-recovery ventilation technology can be included as part of a total heat-recovery solution, and these highly energy-efficient systems can be integrated to provide year-round heating and cooling for small to large-sized offices, hotels or other commercial facilities.
Whether organisations are motivated by compliance with the CRC Energy Efficiency Scheme, EPBD reporting or the need to meet Building Regulations requirements, there are many ways in which the performance of air-conditioning systems can be enhanced, energy consumption improved and carbon emissions reduced.
The basic principle is to get back to basics. Regular maintenance and servicing visits are vital, as well as ensuring units are clean and dust-free. Utilising self-cleaning cassettes can help ensure that a system operates consistently at peak efficiency. Upgrading old R22 refrigerant systems to operate using non-ozone-depleting R410A refrigerant can deliver up to 50% better energy efficiency. Remote monitoring can also help ensure that systems operate at optimum levels, thus increasing their lifespan.
By combining all this good practice, the multiple impact is better performance, improved energy efficiency, lower running costs and fewer carbon emissions — a win-win result all round.
John Durbin is engineering department manager with Daikin UK.
Related links:
Related articles: