Solving challenging heating projects
Engineered heating solutions can answer the challenges of installations that are not suitable for off-the-shelf products. They offer the flexibility required to meet the heating needs of 'problem' buildings, JOE KIERNAN explainsConsultants and contractors are faced with constantly changing requirements for heating in the commercial and industrial H&V market – including ever-more stringent Building Regulations, the new European Directive on building performance and Government energy-efficiency standards. End users rightly demand perfection for their investment and will be quick to complain if comfort levels fall short of expectation.
Never an option
Compromise on the heating system is never an option. So when a building presents exceptional challenges — because of unusual layout, conservation requirements or other out-of-the-ordinary feature — an off-the-shelf heating product is rarely the most appropriate solution. A correctly designed, well-engineered solution, tailored precisely to the application, will always answer the heating needs of the building and its occupants. In our experience, bespoke heating systems are specified more often than ever before. One reason may be the pressure to achieve energy efficiencies in line with Part L of the Building Regulations and reduce the Climate Change Levy burden. It may also be that consultants and contractors are pre-empting the European directive on building performance that will become UK law in late 2005. Modern heating installations must optimise fuel efficiency, produce lower greenhouse-gas emissions, operate very effectively and quietly, and in some cases provide both heating and ventilation or summer cooling. Investing in high-efficiency heating equipment costs less in both capital and ongoing running costs, as well as being eligible for 100% Enhanced Capital Allowances up to a year from installation. The table shows that high-energy efficiency heating systems are now cheaper to install and run in the long term than standard-efficiency models. Some applications are complex in their requirements. The church of St Giles in the Field, London, needed to replace a 30-year old heating system that was beyond repair. The new heating system could not interfere with this ancient church's historic fabric, had to use existing underfloor ductwork, be quick and effective in heating up the church nave for services, and operate at very low noise levels.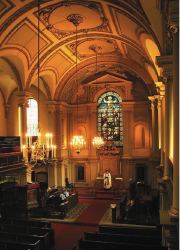 A heating solution based on a Reznor gas-fired warm-air heater has replaced a 30-year-old heating system in St Giles in the Field, London, without interfering with the historic fabric.
Further, the heater had to be sited in the vault beneath the church — a room just over a metre high which could only be accessed by a short, narrow staircase. A Reznor Europak PV 2095-20 gas-fired warm air heater, engineered for the specific requirements of this unusual application, provided the solution. It was supplied in kit form for reassembly in the church basement.
Engineered solutions – the benefits
Engineered heating schemes can include heaters with a range of optional extras such as filters, modulating burners, dampers, discharge heads, cooling coils, re-circulation fans etc. to achieve the precise comfort levels required. Additionally, an engineered solution can include providing information such as heat-loss calculations, schematic drawings, flue design, the suitability of types of control equipment and the optimum positioning for equipment. Heating-system design will also take account of any constraints or obstacles imposed by the building, ensuring the correct layout for the installation. In the case of Reznor engineered solutions, partnership support for consulting engineers, ensuring the H&V requirements of the project are handled smoothly and efficiently, is part of the package. All routine queries about the heating installation can be handled with nominated contractors, without having to refer to the consultants.
No smoke without fire
Most heating specifications are for straightforward comfort heating. However, some engineered solutions require heaters to be tailored for specific purposes. At Thanet Fire Station, the client needed to recreate the intense heat of a fire for training purposes.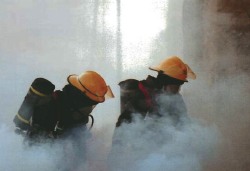 In an unusual heating installation at Thanet Fire Station, 55 kW of Reznor unit heaters achieve high temperatures for training purposes.
Two Reznor X1030D unit heaters with a total output of 55 kW were installed in a room just 108 m2 and with a roof height of only 4 m. Each of them was installed in a small cupboard connected to each other by ducting. A bifurcated fan capable of withstanding very high temperatures was fitted to ensure a constant feed of air into the required space. This unusual solution demonstrates the flexibility that an engineered solution can bring when a heating specification is unusually complex or out of the ordinary. In all engineered solutions, Reznor applies expertise and technical capability to develop a tailored and wholly innovative approach to heating.
Joe Kiernan is with Reznor UK Ltd, Park Farm Road, Folkestone, Kent CT19 5DR.
Related links: