MHS Boilers introduces range of boilers for retrofit market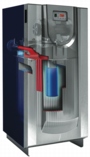 MHS Boilers offers a solution to the replacement of old atmospheric boilers in compact plant rooms with its ADI-Nox range. These boilers have outputs from 68 to 905 kW, and models up to 110 kW are only 305 mm wide. Even the largest model occupies only 1.2 m2 of floor area. The difference between flow and return temperatures can range from 10 to 15 K. A larger delta T can be achieved by blending in a low-loss header.
The range includes three versions.
The standard type is fabricated from carbon steel and intended for the replacement market.
There are also two versions with stainless-steel heat exchangers. One is designed for installations that do not require a condensing boiler, but it will tolerate condensation in the flue gases if it occurs if it occurs. The other is a fully condensing version.
All boilers have a radiant burner fed with precisely premixed gas and air and large turndown. NOx emissions are as low as 4 mg/kWh at 0% O2.
Related links:
Related articles: