Delivering a healthy environment in a low carbon future

Lots of fresh air to make for a healthy building doesn't have to be matched with a high energy bill — if heat in exhaust air can be recovered. John Kelly looks at the issues.
In the UK, 98% of commercial buildings are at least five years old and their everyday use is equivalent of 90% of a building's total emissions. But it's not just the rate of emissions that has placed increased pressure on finding new ways to reduce energy efficiency — the financial implications of increasing energy costs is also a major factor for building landlords, occupiers and developers.
In recent months, commercial buildings have faced increasing pressures to find ways to reduce their carbon emissions. It is no longer a novelty or a gimmick to install energy-efficiency measures in a building; they are needed in order to help businesses survive energy price hikes and pressure from Government. Indeed, all new commercial buildings from 2019 are targeted to be zero carbon. Also, in the long term, it is likely that strong sustainability credentials will impact on the price of commercial property, with businesses shying away from poorly performing, energy-hungry properties.
There are several ways to improve the energy efficiency of a building, but one that has seen a continually increasing market is mechanical ventilation with heat recovery. Such systems have been around for many years and are now coming to the fore as a low-carbon future looms on the horizon. This is because they offer massive energy-saving potential by recycling otherwise wasted warm air, treating it and redistributing it throughout the building.
The average adult consumes 15 000 litres of air every day, 90% of which is indoor air. For that air to be clean to breathe, it needs to be replaced with outdoor air every two hours. An MVHR system works by extracting this stale air and transferring most of its heat through an exchanger which then heats incoming fresh air before it is fed directly into the ventilation system through a filter.
Added to this energy saving are the additional benefits of improved air quality within the building, which has an overall impact on the health of the building's occupants. For example, sick-building syndrome is a recognised condition, symptoms of which include irritation of the eyes, nose or throat and skin problems — and one of the key causes is poor air quality. To combat this, MVHR systems have a high-efficiency, inbuilt filtration system to clean out airborne particulates and VOCs while preventing damp, stale air from posing any threat to occupants.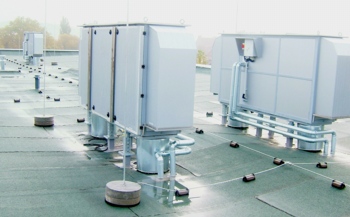 This in turn, promotes better and more efficient working as healthy air results in healthy occupants who can work effectively. Efficiency can therefore be equated to more than just the fuel use of the building; it can also be used to enhance the productivity of people working in buildings.
Installing a system at a central location point prevents it being tampered with — eliminating the age-old problem of workers fiddling with thermostats to compensate for fluctuations in room temperature. This can cause unnecessary fuel usage as a more traditional heating system would need to fire up each time the thermostat setting was raised. 'On-demand' controls in the building can automatically respond to changes in the indoor climate, and occupancy levels are monitored by CO2 sensors. Consequently, the MVHR unit delivers a constant and balanced flow and temperature throughout the building.
With multiple benefits, including over 90% of heat being recovered from the waste air, MVHR is a highly effective and obvious choice for the future supply of energy-efficient HVAC requirements in commercial space as we come into a period of tighter regulation and move closer to the target date for Government carbon-emissions reduction.
John Kelly is marketing manager with Airflow.
Related links:
Related articles: