Memco launches elevator position system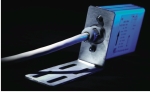 Memco's elevator position system can be added to existing elevators to provide information about the floor number and direction of travel to passengers on a display screen inside the car. A magnet on each floor activates a sensor as the elevator car passes to update the display. The system will work with elevators travelling at up to 3.6 m/s and can cover up to 32 floors.
Installation is simple, requiring the sensor to be mounted on a bracket and a magnet glued at each floor level.
A variety of packages is available. The premium package includes an Evolution S1 18 cm ultra-slim LCD screen, lens, SD card and stainless-steel faceplate.
Related links:
Related articles: