Medium-temperature heat pumps use propane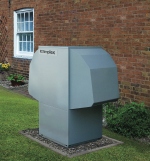 The medium-temperature LA PMS range of air-source heat pumps from Dimplex offers variable water-flow temperatures up to 65°C and is available with outputs of 8 or 14 kW. The flow temperature is weather compensated. These heat pumps can be used as the sole heating source in bivalent mode to supplement an existing heating system. The refrigerant is R290 (propane), which has a GWP of 3.
Extensive sound insulation and air-deflector hoods on the outdoor units minimise noise emissions.
The 14 kW model has twin compressors with intelligent switching between them to maximise compressor life. Electronic soft start reduces starting current.
These heat pumps can be teamed up with underfloor heating, Dimplex SmartRad fan-convection radiators or conventional radiators. They are supplied with a wall-mounted WPM heat-pump manager.
Related links:
Related articles: