Heat-recovery ventilation units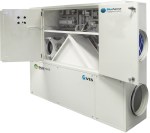 VES's Ecovent range of heat-recovery ventilation units has cross-flow plate heat exchangers and high-efficiency fans. The range is designed to suit all applications, with a wide choice of models for ceiling voids, plantroom and external locations.
Ecovent is a standardised range in eight sizes covering airflows from 0.1 to 2.5 m3/s. Fans can be integrated EC units or plug fan with inverter. There is a variety of heating types and controls options.
Related links:
Related articles: