Condensing boilers and renewable energy in harmony
Despite some suggestions to the contrary, condensing boilers have an important role to play in delivering energy-efficient space heating and domestic hot water. David Pepper of ICOM Energy Association explains why.
When Mark Twain heard that his obituary had been published in the New York Journal he famously responded with the phrase: 'Reports of my death are greatly exaggerated.' A similar message might also be directed at those who have suggested that air-source heat pumps have sounded the death knell for condensing boilers.
The fact is that building-services engineers now have a much wider choice of heating technologies than was the case a few years ago. As a result, there are many instances where maximum energy efficiency will be achieved by a system that integrates different heating technologies — such as condensing boilers, water heaters, heat pumps and solar thermal.
However, tried-and-tested engineering principles dictate that each of these technologies has its pros and cons, and these must be taken into account when designing heating systems.
Air-source heat pumps are a case in point. There can be no doubt they have the potential to deliver significant reductions in carbon emissions and running costs in the right circumstances. Sadly, there have been a number of cases where the circumstances were not right, and savings have not been as great as anticipated. The key to avoiding such situations is to fully understand how different variables impact on performance.
The key metric here is the coefficient of performance (COP). It is commonly accepted that a heat pump needs to deliver a COP of 2.5 or more to equal the operating efficiency of a condensing boiler. And, indeed, many air-source heat pumps can accurately claim a COP as high as 4.1 when tested to the requirements of BS EN 14511.
For air-to-water heat pumps, BS EN 14511 requires testing at an air temperature of 7°C and flow/return temperatures of 45/40°C. If the air temperature is lower, or the flow temperature is higher, the COP will fall. Therefore it is important to consider the COP in relation to the actual conditions under which the heat pump will be operating.
For example, where the heat source is designed to provide domestic hot water (DHW) and space heating the required flow temperatures are often considerably higher than 45°C. DHW will typically need to be heated to around 65°C to maintain legionella control, so if an air-source heat pump is the only heat source there will be a negative impact on COP. In fact, many air-source heat pumps are unable to generate water temperatures as high as 65°C, so they will need to be 'topped up' by another heat source — typically a condensing boiler.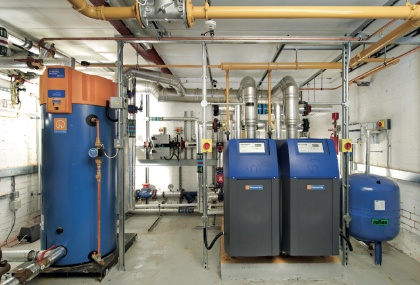 A radiator-based wet heating system may require a flow temperature of around 80°C unless the radiators are specifically sized for use with low flow temperatures. Again, an air-source heat pump contributing to this flow temperature will operate with a reduced COP and will still need to be topped up by a secondary heat source.
The other important variable is air temperature. The COP of an air-source heat pump will be reduced at outdoor ambient temperatures lower than 7°C. This means that at the height of the heating season heat pumps will often require a secondary heat source to maintain design space temperatures. However, during spring and autumn air-source heat pumps have the potential to deliver significant carbon and cost savings to the user.
As a consequence, air-source heat pumps are best suited for use with low-temperature systems such as underfloor heating or as part of an integrated heating system that uses a range of technologies. In this context it is worth noting that condensing boilers will also increase in efficiency when used with low-temperature heating systems as there will be more condensing. This also needs to be taken into account when designing heating systems.
So this illustrates the key point — in designing for optimum efficiency, while taking all other factors into account, the ideal situation is to exploit the advantages of each technology while mitigating the disadvantages. This may involve pre-heating cold water for hot-water systems, using heat pumps or solar thermal, and using condensing boilers to bring the water to the required temperature. Or it may involve using different heat sources for different heating circuits to exploit each technology to the full. This is where the knowledge and experience of the building services engineer comes into its own.
David Pepper is chairman of the commercial boiler and water heater group within ICOM Energy Association
Related links:
Related articles: