Replacing variable-speed drives in HVAC applications
Variable-speed drives are now well established in building services, and the early product generations are becoming ripe for replacement. It is not just at breakdowns that replacement should be considered; changing out in time can help prevent downtime. A new drive can also reduce energy consumption and save space, as NICK THORNE explains.The first generation of variable-speed drives, installed during the late 1970s and early 1980s, is starting to show signs of aging. Of the total sales of drives to building services, 40% are expected to be replacing existing installations. When drives fail and spares are either expensive or impossible to get hold of, replacement is often the answer. A drive can be expected to operate for about 15 to 20 years, and manufacturers tend to provide spares for 10 years after manufacturing ceases. In practice, with product generations lasting five to eight years, supplies of spares can dry up when the drive reaches the end of its economic life, which makes operating old drives risky. Essentially, drives have the same life expectancy as any other type of solid-state electronic device. You may still be able to get the spares for 15-year-old products, but as you may be facing lengthy delivery times as well as high costs for the spares, upgrading may be a more economical alternative than keeping the old drive going.
Benefits of new drives
The prices of AC drives, like those of other electronic products, have been greatly reduced over recent years. Buyers can also claim Enhanced Capital Allowances in their tax return on the purchase and installation, enabling them to claim the full cost against corporation tax in the year of purchase. Small and medium-sized enterprises can also apply for a Government-sponsored Action Energy loan, which gives an interest-free loan, repayable over four years, for the purchase of energy-efficient products in applications where the payback time will be less than five years. This is quite achievable, as the new drive has typically reduced total losses by some 10% and is 3 to 5% more efficient than its predecessor. If a matching high-efficiency motor is installed at the same time, the energy savings will be even greater. New drives are also much smaller and so take up less space. Fitted with more recent technology, they will reduce mains harmonic pollution. New drives also offer far more information that can be fed into a central computer or building-management system, for instance motor current, motor torque, drive fault status and other information critical to the function of the drive. Equipped with Ethernet, they can be interrogated remotely.
Replacing the drive
By the time a drive is 10 to 15 years old, its power devices will have switched millions of pulses, modulating the motor current to the desired voltage and frequency. As the entire load of the motor passes through these components, they are subjected to considerable stress. Any problems with the load can put additional stress on the devices. Capacitors can begin to dry out, and cooling-fan bearings may need to be changed before they fail. Soldered joints may dry out and become brittle, causing loose connections. It is time to consider replacing the drive. The new drive is simply fitted in place of the old one. The terminals may look different but will still be passing the same current and are therefore, in most cases, fine to use. The exception is if the drive is supplied via busbars, which may need modifying. However if the drive is fitted in a cubicle, the whole cubicle, with busbars, is normally replaced.
Check your motors
Also, ensure that the motor can run with a modern drive. If the motor is old and uses a class B insulation system, upgrading should be considered to a modern motor with class F. This will ensure the motor works reliably. Check also that the motors are of the high efficiency type, EFF1. A high-efficiency 90 kW motor can save as much as £12 000 in energy over a 10-year service life. Motors also need to be correctly sized for the application. Quite often, motors are oversized because the application has changed over the years. For instance, parts of the heating system may have been replaced, resulting in a smaller total volume, which means less water needs to be pumped. Many systems have also been designed for a higher volume that never materialised. Another factor is the practice of adding a 'service factor' when designing the system. If everybody involved has added a little extra to be on the safe side, the motor and drive system is likely to be grossly oversized. A pump or a fan needs only to have its speed reduced by a couple of percent to give significant savings.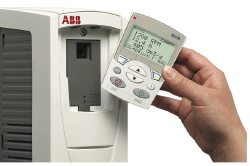 ABB's HVAC standard drive features a maintenance assistant to help users schedule maintenance of the drive and its associated equipment.
Most drives now come with built-in harmonics filters to reduce supply network pollution and meet the new UK harmonic standard, G5/4. If the total sum of harmonics on the site is getting high, replacing an old drive with a more modern equivalent could make a difference. More up-to-date drives employ swinging-choke technology that can reduce harmonics by a further 25% compared to any previous generation of drives.
Seamless upgrades
Many suppliers of variable-speed drives, among them ABB, offer a supply-and-install service, providing seamless upgrades, often over weekends and bank holidays. This involves removing the old drives, supplying the new equipment, such as motors and control switchgear, and wiring them into a control system. When defunct drives are removed, they should be removed by a registered waste carrier, as it is illegal for anyone else to do so. ABB has an agreement with a recycling company, RID UK, which is a registered waste carrier and which will also ensure the drives are recycled properly. Once the drive is installed, conduct annual checks to ensure that the connections are tight, and that any insulating dust is removed. Heat expansion inside the drive can cause screws to work loose, while dust build-up could cause the drive to overheat. With the new drive in place, your application has another 15 to 20 years ahead of it, and you should see an immediate difference in your energy usage.
Nick Thorne is sales manager for HVAC with ABB Ltd, 9 The Towers, Wilmslow Road, Didsbury, Manchester M20 2AB.
Related links: