Effective efficiency

Improving energy efficiency in office environments brings business benefits and increases productivity — and is highly cost effective, as Richard James of Trane explains.
Energy accounts for the largest controllable operating expense in office buildings, representing typically a third of variable expenses, according to the Building Owners & Managers Association (BOMA) International. Temperature control and lighting represent more than half of a typical office building's total energy consumption, providing businesses with a great opportunity to reduce their energy consumption.
Improving energy efficiency in existing office buildings is one of the most cost-effective ways to reduce energy consumption and cost. It is estimated that a 10% decrease in energy use could lead to a 1.5% increase in net operating income (NOI) — with even more impressive figures as the energy savings grow.
Implementing energy-efficient practices also improves building performance and helps create comfortable indoor environments that positively impact staff productivity.
But where and how to start?
While facility managers and building owners might be intimidated by the task of cutting energy costs, a number of targeted heating, ventilation and air conditioning (HVAC) and lighting measures can generate significant savings in the short to mid-term.
When assessing your building's energy efficiency, trusted contractors, engineers and service providers familiar with the building can provide valuable input. They can help identify options and evaluate which are most financially sound, based on their experience working with facilities of the same type and size.
Experienced companies can also offer their expertise, useful insight and resources to help optimise a building's performance. They can combine design and project-development expertise to develop and execute comprehensive projects that improve energy efficiency and reduce maintenance costs. An initial consultation with experts ensures an informed start.
The next step is a comprehensive energy audit to record the building's existing energy use as well as usage patterns and asses its current performance. This energy audit will identify opportunities for energy-saving strategies — including (or emphasising) those that do not disturb building operations.
It is important to identify energy-conservation measures, scope the project, benchmark against industry standards, estimate costs and determine the financial benefits. Proposed solutions should take into account factors such as local weather conditions, the building's operational requirements, available funding for system upgrades, and the efficiency and health of the current systems.
Energy-modelling software, such as the Trane Trace700 tool, can further help identify and assess opportunities for energy savings. Energy modelling recreates in a simulated environment a building's systems and their interaction, showing when, where and how systems and equipment are using energy. Advanced versions of this software incorporate current energy standards and allow the modelling of building systems at varying lifecycle stages. As a result, HVAC system changes can be tested in a virtual environment. Different solutions can be compared to determine which combinations would perform best.
It is not necessary to wait for new or fully upgraded super-efficient systems to achieve significant cost reductions. By assessing existing systems and benchmarking them, improvement areas can be clearly defined in order to implement best practices and targeted energy efficient solutions.
A review of the systems that determine the office atmosphere, including HVAC and lighting, offers concrete opportunities for energy savings. The following measures generate considerable short to mid-term results.
HVAC
• Commit to predictive and preventive maintenance programs, such as Trane Care, to assess system condition and identify potential issues. Services range from onsite inspection and oil analysis to thermography and vibration analysis.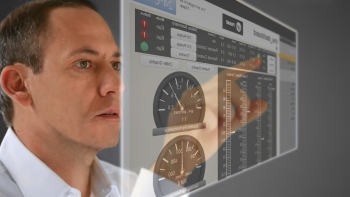 • Employ intelligent services and predictive maintenance models to improve reliability and reduce operating costs. Intelligent services combine technology and sophisticated analytics to collect, interpret and act upon data from building systems and controls to optimise operational performance.
• Implement building automation systems, such as Tracer, to optimise building performance. An automation system can generate significant savings with only a modest investment.
• Monitor chiller plant operation and system performance. Data logging, trending and analysis tools can be employed to evaluate and sustain the cooling-system performance.
• Evaluate various types of cooling-system design, including heat recovery, variable primary flow or free cooling.
Lighting
• Replace old-style lighting with new, energy-efficient technology, such as LED, that uses less energy and produces less unwanted heat.
• Introduce automation systems, such as occupancy sensors, to minimise reliance on employee behaviour.
• Make the most of blinds that allow daylight to enter without the glare that causes occupant discomfort. Daylight blinds redirect light onto the ceiling — diffusing light inside a space.
In today's economic climate, facility managers 'make do' with increasingly smaller budgets. These strategic HVAC and lighting measures deliver energy savings and better building performance, resulting in financial outcomes.
Optimisation programs, such as Trane Boost, help building owners and facility managers improve their building's HVAC system. System analysis and performance assessment provides building owners with detailed information about their current installation. By benchmarking the existing installation against tailored solutions, an energy-efficient solution is recommended that meets customer's key performance targets, payback expectations and existing regulatory compliance.
Furthermore, the sequencing of the HVAC plant to optimise operation during part-load conditions and the optimisation of the programming for energy management of the building-modelling system can deliver attractive energy savings. Operational savings include reduced material inventories, decreased repair expenses, diminished downtime and improved process efficiency. As a result of strategic analysis and planning, targeted actions can help owners and facility managers achieve short to mid-term success in turning their buildings into energy efficient assets.
Richard James is sales leader for Trane Commercial Systems, UK south.
Related links:
Related articles: