National Apprenticeship Week

Last month's National Apprenticeship Week (3 to 7 March 2014) saw a flurry of press releases coming our way. They covered apprenticeship schemes, awards and comments on staffing the industry. Apprenticeships in the construction industry and interest in careers in the industry are clearly alive and well.
NG Bailey, for example, reports 'an unprecedented surge in online applications for its 2014 intake of apprentices, demonstrating the "earn and learn" route is more popular than ever.' Over 350 online enquiries were received in the first few days of advertising new apprentice roles that will start in September.
Mike Darlington, who started as an apprentice at NG Bailey 33 years ago and who is now managing director of the engineering division, explains, 'On average, we receive 150 applications per place, so it's more important than ever to stand out. I always wanted to prove myself and be the best. I instinctively knew that if I did a good job, I would get on. That's a common trait of all our apprentices.'
NG Bailey currently recruits an average of 30 new applicants a year and invests over £3 million a year in apprenticeships and employee training and development.
From Balfour Beatty Engineering Services came the news that the company has shown its commitment to supporting local apprenticeships at Northumbria Specialist Emergency Care Hospital in Cramlington, where 10 apprentices are working in M&E roles.
Balfour Beatty employs over 200 apprentices, with over 50 of them completing the M&E apprenticeship programme. The company is also a member of The 5% Club, an industry-led initiative focused on ensuring that at least 5% of the workforce is engaged in a formalised apprenticeship or sponsored or full-time education within five years.
During National Apprenticeship Week, Balfour Beatty pledged 68 new apprenticeship places to continue its commitment to recruit and develop the engineers, electricians and skilled trades-people of the future.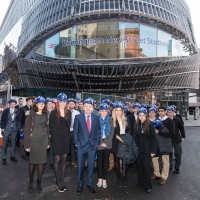 Sudlows, which specialises in data centres, has extended its current apprenticeship programme to create six new placements. The new scheme starts this month and will see engineers placed in a variety of roles throughout the company's engineering and operational divisions.
The new Sudlows apprenticeship programme has been specifically designed with education partner The Manchester College to provide apprentices with an opportunity to work in planning, estimating and operating to give them a wide range of skills over the full tem. Managing director John Collins started as an apprentice with the company over 20 years ago.
More than twice as many young people are choosing engineering apprenticeships as degree courses, points out the Institution of Engineering & Technology. The IET refers to figures from the Skills Funding Agency showing that in 2012/13 66 410 young people started an apprenticeship in engineering and manufacturing technologies, more than double the 27 155 young people accepted onto engineering high-education courses in 2013, according to UCAS figures.
Michelle Richmond, IET membership director and a former apprentice, said, 'With a university degree costing £27 000 in fees alone and with no guarantee of a job at the end of the course, apprenticeships are more popular than ever with young people.'
Finally, a personal success story. Benjamin Maddock of Norland Managed Services has won the JTL national apprentice of the year award for 2014. He was one of JTL's 13 regional apprentices of the year. Norland employs 45 apprentices throughout the UK, all of whom are on a 4-year training initiative while receiving practical experience on site.
Related links:
Related articles: