The quickest way to save lots of energy

Retrofitting variable-speed drives can offer the fastest and greatest energy saving rewards. Carl Turbitt of ABB explains how.
Variable-speed drives (VSDs) are arguably the ultimate quick fix to reducing a building's energy bill — yet their potential is often overlooked. A survey asking energy managers for their recommendations for lowering energy costs resulted in most suggesting swapping energy supplier. With the wholesale costs of electricity and gas heading in one upwards direction, that answer appears naïve.
The, proven, most efficient way is to use VSDs and high-efficiency motors, and yet this answer came a long way down the list, behind recommendations like energy-efficient lighting.
But consider this. A VSD is used to regulate the speed and optimise the output of an electric motor. Using a VSD to control motor speeds on pumps, fans and compressors — found throughout buildings — can reduce running costs by up to 50%. How is this possible?
How it works
The relationship between a motor's speed and the of power it uses is not one-to-one. In fact, power varies with the cube of the speed. Doubling the speed means increasing the power drawn eight times. It works in reverse, too; reducing the speed by half means reducing the power by a factor of eight.
To understand what this means in the real world, consider that the average home uses around 1600 kWh per year of lighting. Switching the entire house from incandescent bulbs to compact fluorescent lighting (CFLs) would result in about 1200 kWh per year in savings.
A moderately sized supermarket of 50 000 ft2 (4645 m2) will use about 143 000 kWh per year for cooling alone. Applying a VSD to the HVAC system might, conservatively, reduce energy consumption for cooling by 20%.
This equates to 28 600 kWh in savings. In other words, it would take 24 'average' homes to covert entirely to CFLs to produce the same energy savings as one drive system in a relatively small application.
Quick fixes
So where do you start, if you are new to VSDs? A good starting point is to look at our checklist for building services consultants. The guide has been compiled to offer consultants and contractors a chance to update their technical specifications and to identify features that they might never have expected to see in today's VSDs.
Like all technology, the functionality of VSDs has moved apace in recent times. Features such as BACnet and ModBus give seamless integration of serial communications dedicated to HVAC, offering greater adaptability and connectivity with automation building networks.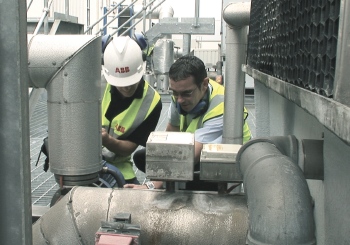 Our drives, for example, have pre-programmed macros for HVAC-specific applications, such as supply and return fans, cooling-tower fans and booster pumps.
A real-time clock, with time and date stamps, can be used together with extensive timer functionality and I/O to automate fan or pump control depending on the time of day or night. Such timers can be used to change speed or automatically start or stop a motor, thereby operating like a simple building-management system (BMS).
Energy appraisal
To discover just what features are available and how they can enhance the operation of a building, an even quicker fix is to engage with a member of our energy appraisal team. In most cases it takes only half-a-day to identify the key applications that can benefit from VSDs and high-efficiency electric motors.
Such a survey can include advice on replacing drive or motor components as part of a preventive maintenance plan. It can also advise on upgrading entire systems to the latest technology or to extend the functionality of existing drives and motors. Other issues might include the possibility of retrofitting existing drives with modern technology or recycling of all removed drives and motors to the latest legislation.
The pace of modern life means that the use of buildings is regularly changing, such as cafeterias becoming cold sandwich outlets, leading to installed motors being over-rated.
Changes in regulations also have a major impact. The smoking ban, for instance, has led to many motors used in air-handling units being oversized.
And then there is the Government's CRC Energy Efficiency Scheme. Since 2010, when the scheme became mandatory, companies have to measure their CO2 emissions, report their energy usage and purchase allowances from the Environment Agency to cover the carbon emissions that their businesses create. An energy appraisal can help with all these legislative issues.
For those who are still unsure of the benefits of VSDs, one quick fix could be to hire a drive. Hiring a drive helps unearth potential energy savings and CO2 emission reductions before making a commitment to purchasing a drive. As such you can install drives with no upfront hardware costs and structure payments so they are always significantly less than the energy savings. Hiring also frees up capital as you can pay for the costs from operating expenditure. And there is, of course, tax relief on hire costs, thereby releasing capital for other investments.
Carl Turbit is ABB's team leader for HVAC drives in the UK.
Related links:
Related articles: