Quick energy-saving tips
Hywel Davies of CIBSE explains how simple processes and alterations can reduce energy use and, therefore, costly bills with one flick of a switch.
Refurbishing existing buildings is vital as new builds only represent 1% of the building stock each year, and creating energy-efficient buildings is critical to cope with the uncertainty of our future energy supplies and reduce our energy bills. However, sometimes instead of waiting for costly repairs and refurbishments, quick and effective fixes are available.
Quick low-cost measures should be a national priority, as simple improvements in building performance could contribute to a 10% saving in energy usage. This could lead to a possible £11 billion reduction in the £110 billion allocated for investment in new generating capacity. Commercial buildings are particularly important as they account for approximately 17% of all electricity consumed in the UK, with lighting accounting for nearly a quarter of that load.
These simple tips will also help towards compliance with the Energy Saving Opportunity Scheme. From 5 December 2015, large organisations in the UK with more than 250 employees or turnover in excess of €50 million or an annual balance sheet total of €43 million, will have to comply with the scheme. This means 90% of the company's energy use for buildings, transport and operations will be assessed. The ESOS Regulations require that the lead ESOS energy assessors be sourced from approved existing schemes run by professional bodies, such as the CIBSE Low Carbon Consultants register. Assessors will provide advice on cost-effective energy-saving measures, so these quick measures will be high on their list.
Buildings consume almost half of our energy in the UK. It is widely recognised that around 20% of energy used in buildings is needlessly wasted. There are some ways to minimise that waste. For example, CIBSE's Building Performance Awards' Carbon Champion of the year 2013, British Land, tries to minimise that gap each year by setting energy-saving targets. Between 2009 and 2013 British Land achieved energy-cost savings for its occupiers of £1.6 million, which equates to a carbon emissions saving of 24500 tonnes. Landlord-influenced energy use was also cut by 27% in 2012.
Other industry leaders for saving energy, such as CIBSE's 2014 Carbon Champion, M&S, made its portfolio 34% more energy efficient, 27% more water efficient and has maintained zero waste to landfill.
But how can just anyone make these kinds of savings? You don't necessarily need a new build or complete refurbishment to cut energy costs, as small changes in behaviour can pay dividends.
Some very simple and effective ways of saving energy don't require any expenditure.
Ensuring occupants or facilities managers know what controls do is the first step to achieving an energy-efficient building. This is the reason why soft landings and post-occupancy evaluations are so important.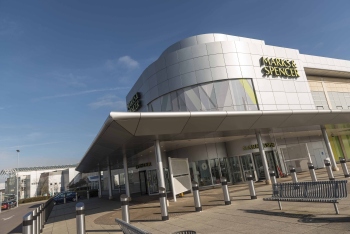 Many control systems are not considered to be user friendly, so perhaps diagrams and instructions need to be printed so that occupants of buildings and managers can more easily see how to control their temperature and lighting. This not only reduces energy use but creates a more comfortable office environment.
Building-management systems (BMSs) can minimise energy use, a tactic being explored by British Land. Systems can be switched off manually when areas aren't occupied. However, British Land is working with its partner to explore where this can be automated for air-handling units and other plant equipment.
Simple checks and processes can encourage occupants only to only use heating when it's cold and cooling when it's warm. This makes them aware of their surroundings, the energy being used and gives the end user more control. Ensuring heating is not fighting cooling is also paramount. Running heating and cooling with a window open is a complete waste of energy!
In warmer spells it makes sense to allow building users to dress appropriately for the weather as well as the business, and to provide plenty of cool drinks to help them feel comfortable. These simple steps can reduce the demand for mechanical cooling and reduce feelings of discomfort — at no real cost to the business. When occupants are not in the building, all systems should be turned off. Lights, air conditioning and heating should be off at weekends and evenings if offices are empty.
Lighting impacts on occupants and can represent as much as 30 to 40% of a commercial building's energy use. This is why M&S has decided to change lighting systems to LED in 100 additional stores and introduced timers and sensors for lights, giving quick returns on investment with the amount of energy saved.
Whether educating occupants with incentives and energy-saving schemes, monitoring BMS or installing a sensor, all these tactics will help reduce the capacity gap and also meet approaching ESOS compliance. Energy efficiency can help answer demands for energy supply if we just start using less energy.
Hywel Davies is technical director of the Chartered Institution of Building Services Engineers.
Related links:
Related articles: