Specification drivers

What do contractors and consultants take into consideration when choosing pipework systems? Des Dolan of Durapipe shares the findings of recent research into pipework specifications.
The building services landscape is changing. Gone are the days when products were specified on performance and price alone. Today, there are so many other factors that are taken into consideration when selecting solutions for building-services applications.
The introduction of BIM (Building Information Modelling), increased awareness of health-and-safety issues and more emphasis being put on sustainability are just some of the industry developments that now play a part in product selection. As a result, my company has spoken to building-services contractors and consultants to find out what the current priorities are when specifying pipework systems for building-services applications.
BIM
BIM has been the hot topic in the construction industry for at least the last 12 months, with all companies in the supply chain keen to outline their strategies and solutions regarding BIM. Despite the frenzy around this new digital approach and the looming deadline for public buildings, it seems the construction sector is slow on the uptake, with just a quarter of those surveyed selecting products with BIM information available.
Despite relatively small take up currently, there are encouraging signs that usage is growing, as 39% of those questioned explained that they occasionally use BIM models — suggesting that they are preparing for compliance with the new procurement process. However, with the mandatory requirement for BIM on all public-sector buildings with a capital value over £5 million from May 2016, it is concerning that one in four of respondents stated they do not believe the technology to be important at all. Maybe these companies need to get to grips with BIM quickly and embrace the technology if they are to be competing for tenders this time next year.
Sustainability
Sustainability has now become integral to every construction project in the UK. Reducing carbon emissions, saving energy and recycling materials are major priorities for all businesses — and the construction industry is no different. Every new-build project needs to demonstrate clear sustainable credentials, and it is important that each company in the supply chain can provide a defined strategy outlining its commitment to sustainable practices.
This is evident from Durapipe's research, in which almost a quarter (22%) of respondents revealed they only choose systems that demonstrate clear sustainable credentials. More than half of those questioned (55%) acknowledged the growing importance of the issue, although not always essential. 20% confirmed it is a consideration, alongside other criteria. Just 3% of respondents rarely consider sustainability when selecting pipework products, a clear indication of the huge part it plays in today's building projects.
Legionella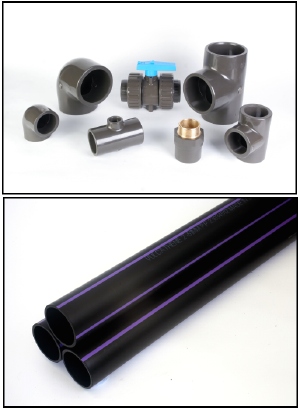 Following some high-profile cases of legionella outbreaks hitting the headlines, legionella has become a key focus over recent years, with dedicated conferences, forums and debates filling the building-services events calendar. With sanitary hot water and air-conditioning circuits most at risk of contamination from legionella bacteria, it seems the pipework systems that serve these applications are being assessed for their suitability to limit bacteria growth.
More than 80% of those questioned stated that 'preventing the risk of legionella developing in pipework systems' is a major factor in the specification decision. Almost half (48%) indicated that it is always a consideration, while 38% advised it is a consideration for relevant applications. Just 6% of respondents said that it is not something that is usually thought about when selecting pipework products.
Materials
With such a variety of factors influencing the specification of pipework systems, it is interesting to look at the preferred material choices for different building-services applications. Plastic is the preferred choice by a clear margin for chemical drainage applications, with 77% of those questioned indicating that they use Vulcathene for such applications.
Copper systems maintain their firm hold on hot- and cold-water specifications. Copper's market share is, however, beginning to reduce as plastic systems are now starting to gain some traction, with more than a quarter of those questioned saying they favour plastic pipework solutions for hot- and cold-water applications.
It is the responsibility of manufacturers to be developing their product ranges to meet the ever-changing needs of today's contractors, consultants and end clients. The issues that affect the building-services market are always evolving, and it is crucial that manufacturers keep up.
Research such as this is an important part of our product development strategy as it allows us to gain an insight into what is important to our customers so we can adapt and expand our product portfolios in line with their requirements.
Des Dolan is Durapipe's building-services brand manager.
Related links:
Related articles: