Taking the guesswork out of lighting control

With business wanting ever-more control over their operations, Nadine Deery of Ex-Or wonders why so many organisations lack a system to manage their lighting.
Ask anyone involved in the day-to-day running of an organisation — the CEO, CFO, CIO, head of operations, facilities manager — what's important to them, and the word 'control' will feature high up the list. A finance director wants to control operating and capital expenditure flowing in and out of an organisation. IT controls the flow of information. HR controls the behaviour of employees. Security controls their access in and out of the building. Facilities control the delivery, use and maintenance of equipment or spaces within an organisation. Control is the watchword of a successful, well-run business.
The knock on effect of the European recession has subsequently fuelled a desire for even greater control across European organisations. Fiscally, companies are clamping down on business-class travel, expense accounts, subsidised canteens, guaranteed bonuses and mobile roaming. Moreover, the buzz phrase of the moment — 'big data'— means businesses have greater visibility into their organisations than ever before — information on customers, employees, inventory, supply chain, logistics. That visibility enhances their ability, and determination, to control the different facets of their organisation.
There is one notable exception to the rule — lighting. That many organisations lack a system to manage their lighting is truly staggering. Consider this; according to the Carbon Trust, up to 40% of a building's electricity use is accounted for by lighting. Worse, Europe's energy prices have soared in the past five years. Between 2008 and 2012, energy retail prices rose by 17.5% for industry and 20% for households. In January, the chief executive of Italian oil and gas company Eni, Paolo Scaroni, warned that the difference in energy price between Europe and North America was creating a 'massive competitive advantage for the US' and a 'crisis' for the region. It begs the question; how can businesses justify such a lax approach to lighting controls?
What's even more bewildering is there is no shortage of solutions available on the market today, suitable for almost any space.
For example, presence-detection technology uses sensors to automatically turn lights off in an unoccupied space from an empty part of an office, to the floor of a library or an aisle of a big warehouse.
In addition, daylight harvesting solutions — capable of offsetting the amount of light emitted in a space based on the relative presence of natural light — are growing in popularity and reliability.
Ex-Or, a manufacturer of lighting controls in the UK for the last 30 years, estimates lighting controls can reduce energy consumption by as much as 70%, saving money as well as the planet.
Even organisations that are making smart investments in lighting control solutions are occasionally rendering those systems inefficient or inert through poor installation. It is common for customers who install solutions without an experienced and trusted contractor to choose the wrong products for the wrong space, or wire them in incorrectly. Unfortunately ceiling equipment, wall hangings or furniture can easily inhibit optimised operation of the market's standard lighting control solutions. Equally, customers that commission a lighting-control installation without consulting an expert are typically unaware of the technical standards and lux levels that govern their use in a particular office block or space, risking non-compliance with regulations.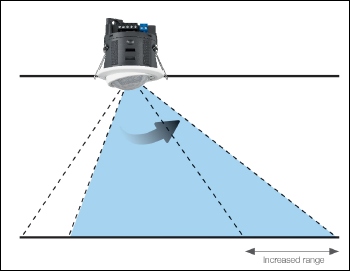 Help is at hand. The latest, most innovative range of products now hitting the shelves provide simple identification icons to ensure the wrong product isn't chosen, using colour-coded connectors to simplify wiring and an intuitive hand-held programming device to ensure products are set up correctly.
Equally, by following a simple process, light switching and dimming levels are guaranteed to be keyed in properly, taking the guesswork out of the set up and ensuring design requirements are met.
New state-of-the-art tilting lenses mean that placement of a detector is no longer critical, as coverage can be easily adjusted. Micro and macro detection detect fine movements without the need for microwave products, ensuring no one using subtle movements — typing on a keyboard or checking stock for example — is left in the dark.
To conclude, well-run businesses understand the importance of control. You can't run a successful operation of any size on guesswork and approximation — well, not for long anyway.
Lighting is the anomaly. Organisations everywhere are relying too heavily on their employees, aided by a sticker on the door or wall, to 'please turn off the lights'. This just isn't sustainable. As energy prices rise, bottom lines are squeezed, the regulatory spotlight on carbon emissions intensifies and Big Data starts asking tough questions, the boards of every company will be demanding the adoption of lighting control solutions. Smart organisations will invest now, and never look back.
Nadine Deery is marketing communications specialist with Ex-Or.
Related links:
Related articles: