Luxonic chilled-beam luminaires for major office at King's Cross development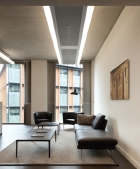 One Pancras Square, a major building in the King's Cross development in London, features 900 chilled-beam luminaires from Luxonic Lighting. This building has offices over eight floors and includes the head office of French fashion design Louis Vuitton. This Grade A office building has a BREEAM 'Outstanding' rating.
The Luxonic Airlux luminaires in these chilled beams are satin-lensed small nose cone luminaires that have been developed for integration into chilled beams to provide controllable light outputs.
Supplied as a standard with DALI dimmable control gear, the satin lens provides asymmetric upward and downward lighting to large open office areas while eliminating uncomfortable glare.
Related links:
Related articles: