HEVAC publishes new guide to air distribution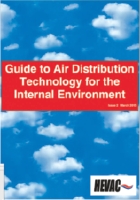 The air-distribution manufacturers' group of HEVAC has thoroughly revised its 'Guide to air distribution technology for the internal environment'. It is intended as a guide to designers and contractors which install air-diffusion equipment.
Using the guide in the early design stage will help designers and contractors obtain a satisfactory air-distribution system.
The guide was first published in 2000 and has been out of print for many years.
Related links:
Related articles: