Rinnai updates water-heating web site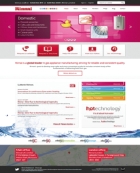 Rinnai, which makes and supplies the energy-efficient range of Infinity condensing continuous-flow gas water heaters for commercial and domestic use, has launched a new company web site. Investment in this online resource is in response to the wants and needs of the industry and has been built after careful consultation with Rinnai partners and installers — and also with the end user in mind.
Information is presented in an easily accessible form to give installers, specifiers and end users all they need to know about Rinnai products and systems — both traditional and renewables.
Visitors to the site can ask for a call back from a Rinnai technical expert or ask for a brochure. There is also a 'help me choose a product' section which guarantees a fast turnaround of advice from a Rinnai expert.
There is also a simple tick-box process to pinpoint the product needed.
There is a library of videos and a section of frequently asked questions.
Related links:
Related articles: