Jaga helps set the standard for Keynsham Civic Centre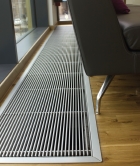 Meeting the heating requirements of Keynsham Civic Centre is a series of heat emitters supplied by Jaga Heating Products. The complex is the new hub of the town centre. Within its confines are shops and restaurants, a public library and performance hall, and the offices of Bath & North Somerset Council.
The council office has several floors lined with glass facades that surround an atrium through the middle of the building. Not only could heat escape through the glass, but each floor would be affected by the large atrium space.
M&E contractor Balfour Beatty consulted Jaga, which recommended Mini Canal trench heaters to provide a barrier in front of the glass to prevent heat escaping. These heaters have Jaga's Low-H2O technology, making them quick to respond to temperature changes — helping to tackle the problem of differing heating requirements of different floors. Low H2O technology also reduced energy consumption by up to 16%.
The building's special requirements for heating and ventilation meant that Keynsham Civic Centre need a flexible, creative approach and bespoke products. Andy Williams, technical consultant with Jaga, explains, 'Two special trench units were specified to overcome ventilation challenges while still providing ample warmth. For one special trench unit, the base was cut out to allow for ventilation from the floor below, and a lengthened element was used to cover the opening and ensure that air was tempered.
'For the second unit, only the heater's elements, feet, grille and frame were supplied. Specially fabricated frames and baffles were used to allow fresh air to be drawn in through the facade of the building and provide ventilation into the space.'
In the Civic Centre library, Low H2O Mini Freestanding radiators fit into pre-built alcoves and in front of glass windows in the private-study rooms.
Related links:
Related articles: