MVHR from Vortice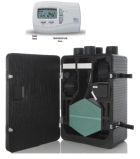 Vortice's HR250 Neti MVHR (mechanical ventilation unit with heat recovery) for homes can serve the kitchen and up to four other rooms. Its thermal efficiency ranges from 84 to 88% depending on how many rooms are served.
Fresh air is fully filtered, even in summer bypass mode, to help maintain good indoor air quality. Units come complete with M5 filters. Airflow is up to 61 l/s (220 m3/h)
They are quiet in operation, with noise levels as low as 16.1 dB(A) at low speed.
Ease of installation is a design feature, and the hinged door makes for ease of maintenance.
For efficiency EC motors are used. A wired controller with display shows the status of the unit.
Related links:
Related articles: