Reducing the life-cycle cost of ductwork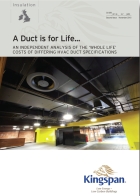 Research from Sweett (UK) shows how whole-life HVAC savings of over 25% can be achieved using Kingspan's KoolDuct system instead of traditional galvanised sheet-metal ductwork. The 'Whole life cost report' was commissioned by Kingspan Insulation and looks in detail at the capital and life-cycle cost benefits of differing HVAC ductwork specifications.
Sweett's analysis shows that compared with galvanised sheet-metal ductwork, the Koolduct system can reduce capital costs by 15% and operation costs by 29%. The overall saving over 30 years is 25%.
The report can be downloaded from the 'knowledge base' of the web site below.
Related links:
Related articles: