Sheltered housing enjoys benefits of new boilers from Ideal Commercial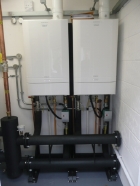 With floor-standing boilers serving living accommodation for older people becoming inefficient and the below-ground plant room leading to them suffering from corrosion from ground water, New Forest District Council has installed four wall-hung boilers in an uninhabited office through which rising pipework passed and an adjacent bin store. The previous boilers operated at around 80% efficiency, and the new installation is expected to deliver savings of about 25%, amounting to about £3000 a year in running costs.
The Ideal Commercial Evomax wall-hung condensing boilers each have an output of 80 kW. They were installed using frame and header kits and new plume kits.
Marryat Court in New Milton, Hampshire comprises 16 buildings with 34 individual flats. The council did not want to run the risk of an emergency boiler retrofit being required during the winter months.
The new boiler system was designed and installed by Rob Sowden, commercial gas engineer for New Forest District Council. He worked with Ideal's technical specialists at the design stage and throughout the project.
He commented, 'As usual, the technical backup from Ideal Commercial was exceptional, especially with the specification of the new plume kits to ensure their termination over the first floor complied with the Clean Air Act.'
The new plume kits enable Evomax boilers to be installed in awkward positions as they allow the flue terminal to be easily relocated up to 10 m from the boiler.
In the creation of the new boiler room, 95% of the boilers, equipment, pipework and controls were installed without disrupting the existing heating and hot water.
Rob Sowden installed most of the boilers, headers, plate heat exchangers and pipework as a single-man project. He commissioned a controls engineer to install the new control panel and relocate the Ideal Universal Controller, which had been installed a year previously.
The changeover from the old water heaters to the plate heat exchangers took less than an hour.
Related links:
Related articles: