A history of ever-growing efficiency

Despite being a relative newcomer to the air-conditioning market, VRF continues to make significant advances. Neil Wooldridge of Toshiba Air Conditioning takes up the story.
VRF, or variable refrigerant flow, air-conditioning systems are one of the great success stories of the modern building-services industry. Introduced in the 1980s, they have progressively replaced more-conventional forms of cooling and heating buildings as their range of application has grown.
The introduction of larger capacities and easily multiplexed systems, extended pipe runs and sophisticated controls have enabled VRF systems to continue making inroads into the larger end of the chiller segment.
At the smaller end of the scale, too, the appearance of compact VRF-style systems has begun to displace sales of standard splits and multi-splits. It is no surprise, therefore, that with such developments over the years, VRF technology has pretty much conquered all before it.
The latest forecasts predict that sales of VRF systems in the UK will continue to rise throughout 2016. Indeed, sales may exceed the record achieved in 2008, when some 19 800 systems were sold.
Key drivers behind this success are VRF's flexibility and efficiency, and the excellent comfort conditions they provide for building occupants.
As the VRF market has grown, the major manufacturers, most notably the Japanese brands, have invested huge sums in research and development in the drive to stay ahead.
Not surprisingly, a focus of this technology race has been energy efficiency. Accepted methods of measuring efficiency over time have changed. However, as a guide, early units had an EER/COP typically of 2.5 to 3.0. Today, they are well in excess of 4.0. Modern measurements of efficiency take account of operating profiles and are therefore more indicative of actual system performance).
Early VRF systems tended to use a combination of fixed-speed and inverter-driven variable-speed compressors. The inverter compressors provided some variable capacity, but not to the degree found on today's systems. The introduction of multiple inverter compressors, controllable in 0.1 Hz increments, has brought significant efficiency improvements, especially under part-load conditions.
Improvements in compressor technology have also played a key role in boosting efficiency. This is linked, in part, to the use of new refrigerants. As everyone involved in the industry will be aware, the constantly evolving legislative backdrop has meant a more or less continuous process of change in relation to available refrigerant options. This has led to both efficiency gains and losses, in some cases. However, it has resulted in a laser-like focus by manufacturers on optimisation — which in turn has produced important advances in compressor design and engineering.
For example, Toshiba has paid particular attention to the development of compressor technology. This has resulted in the introduction of the high-efficiency twin rotary compressor, as used in the multi-award winning SMMS-e VRF. It is able to operate at very low speeds, under precise 0.1 Hz inverter-drive control.
A further technology advance that assists efficiency is the 3-way variable heat exchanger. This enables the VRF's control system to automatically select the optimum setting for current demand.
At maximum load, 100% of heat-exchange capacity is used to deliver full cooling in high outdoor ambients.
In the mid-range option, sophisticated control enables only 80% of the coil to be utilised to ensure the optimum heat transfer is employed during conditions such as average outdoor temperatures.
In the lowest setting, only 20% of heat-exchanger capacity is used to provide gentle operation when outdoor temperatures are low — again maximising coil usage and ensuring no energy is wasted in flooding an oversized heat exchanger.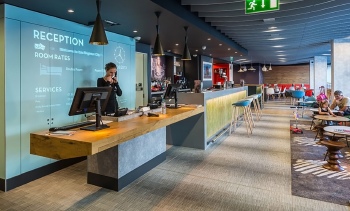 The drive for improved efficiency has given modern VRF systems exceptional part-load performance. This means that systems are at their most efficient in the operating range where they spend most of their time operating. As a result, a well designed and implemented VRF system today should typically deliver an ESEER above 7.0 for cooling, and above 5.0 SCOP for heating, based on standard Eurovent conditions.
The impact of these improvements on running costs will obviously vary depending on the specific system design and the building application. However, energy cost reductions compared to early VRF installations in excess of 70% would be typical.
We should not overlook the importance of system design in relation to efficiency and running costs It is obviously vital to ensure that the VRF system design is suitable for a particular application, or the inherent efficiency advantages of the technology will not be realised.
There are four key principles.
• Equipment must be selected to match the building load profile.
• Indoor units must be suitable for the application, in terms of size and type
• Conditioned air must be distributed as uniformly as possible across the conditioned space, without causing discomfort to occupants.
• The controls package selected must offer the optimum level of control while minimising running time to only what is genuinely needed.
Toshiba is supporting the importance of good design through a new training course on the principles of effective VRF design. Attendance on the one-day course is free and available from the company's network of training centres across the UK.
Looking ahead, it is fairly safe to predict that there will continue to be improvements in the efficiency of VRF technology. However, the options to make significant improvements in energy efficiency are falling, and it is unlikely that we will see such dramatic strides as witnessed over the last 30 years. It is more probable that improvements will be incremental, but nevertheless may still be quite significant over time.
Key areas of innovation are likely to be refrigerants and intelligent controls, where we are seeing the emergence of powerful and subtle new approaches to system management — including anticipatory load prediction and algorithms based on multi-factor fuzzy logic.
With a huge and expanding segment, and keen rivalry among competitors, the VRF sector is likely to continue to be a focus for innovation and development for the foreseeable future.
Neil Wooldridge is technical manager at Toshiba Air Conditioning.
Related links:
Related articles: