The intelligent workplace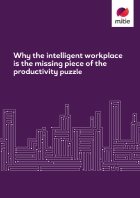 Mitie, the facilities-management company, has produced a white paper exploring how intelligent workplaces can boost productivity. The study is entitled 'Why the intelligent workplace is the missing piece of the productivity puzzle' and looks at the productivity problems facing the UK. The paper also explores how creating intelligent workplaces can be a solution to boosting productivity and help to drive sustainable growth in the UK economy.
The report explains that academic research shows a clear link between the workplace and people's performance.
It also explains how factors such as CO2 levels, lighting, humidity, temperature, space utilisation, movement and noise all affect employee productivity.
It then explains how technology can monitor factors affecting productivity and adjust them to create the optimum working environment.
Mitie has been working with Red Bull Racing to optimise the working conditions at its factory HQ in Milton Keynes. Mitie monitors variables such as air quality, light levels, humidity and the effect on both machinery manufacturing processes and human performance.
Collecting this real-time data gives Red Bull Racing a better understanding of the working environments within the factory, allowing Mitie to optimise them for enhanced performance.
Related links:
Related articles: