Shedding light on integrated building controls

The seamless integration of building energy management systems (BEMS) and lighting control brings together the two largest consumers of electrical energy in a building (lighting and HVAC) and allows them to be controlled from a single common interface. Neil Garland of Ex-Or explains how such integration drives energy efficiency and supports the creation of environments with enhanced comfort and productivity.
According to recent industry studies, lighting accounts for 19 to 23% of the energy used in a building, with 40 to 52% normally being used for heating, ventilation and air conditioning (HVAC). This means that companies have the potential to control up to 75% of their energy usage simply by implementing a combined lighting and heating control system that analyses data and enables more effective use of resources.
Building energy management systems (BEMSs) provide the information and the tools that building managers need both to understand the energy usage of their buildings and to control and improve their buildings' energy performance.
The control of HVAC installations by BEMS is well known but some are unaware of the possibility of integrating lighting control into a BEMS, which will then provide information on the energy usage in an holistic manner. This seamless integration is possible because modern HVAC and lighting systems usually share the same communications protocols, the most widely used being BACnet.
The best integrated BEMS solutions make intelligent use of 'dashboards' that are customised and tailored to suit specific estate requirements. These dashboards have on-screen displays that provide key information at a glance, enabling facilities managers to visualise lighting and HVAC points on a common head-end and see the real-time occupancy status of building zones as well as the current luminaire status in each area.
Using the readily accessible control options provided by a correctly specified BEMS, during summertime, when the weather is milder and people enjoy more daylight, the building controls can be set so that the temperature drops and the lights come on later than in the winter months.
With an annual diary function, heating and lighting can be pre-programmed to operate at minimum levels during bank holidays and the Christmas shutdown. The energy savings achieved in this way can be very significant. For companies operating on more than one site, an integrated BEMS can even offer master-calendar functionality that enables a head-office master calendar to be adjusted and then control multiple sites remotely.
The normal pattern of the working week can also be catered for automatically. Heating can, for example, be scheduled to stop at 4 pm on a Friday and start again at 7 am on Monday, with the lighting levels in the building controlled in a similar fashion. In practice, even small changes like adjusting lighting for a couple of hours each day can offer significant energy savings that go straight to the bottom line.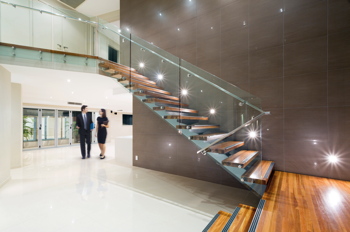 Of course, life and business don't always operate to a fixed schedule, so a well integrated BEMS and lighting control regime can offer timed schedule over-rides to cater for changes such as a late networking event in the building when heating and lighting are required till 8 pm, a large seminar or even a staff Christmas party lasting till the small hours of the morning! When an over-ride is used, after implementing the alternative light and heating levels for a predetermined period, the system will automatically reset to its preconfigured status.
The green agenda dominates the UK building and construction sector, particularly in education. For the average university campus, for example, the energy savings can be significant by employing an integrated approach. With thousands of staff and students working and living on site, the energy needs are equivalent to the entire lighting load of an average town. The lighting alone often accounts for around 50% of the entire electrical load, so when coupled with BEMS efficiencies, energy savings can reach as much as 70%, and the system has the added bonus of generating logged evidence of energy-efficiency strategies.
An additional benefit of using integrated HVAC and lighting BEMS is increased levels of safety and reliability. For example, emergency lighting, which has to be tested regularly and to work without fail should something go wrong, can be continuously monitored by the BEMS. If an irregularity does occur, the BEMS can be configured to email the facilities manager or other designated person and provide a complete report on the time and type of irregularity. This also helps with meeting legislative requirements.
Building and facilities managers have much to gain from using a BEMS that integrates lighting control with the control of other building services. With such a system, they can take advantage of real-time energy monitoring and pro-actively save energy. Easy, accurate and reliable monitoring can also help organisations to achieve their environmental protection goals. Hopefully, this article will help users see integrated building controls in a completely new light.
Neil Garland is strategic marketing leader of Ex-Or.
Related links:
Related articles: