Atag XL boilers have all the right attributes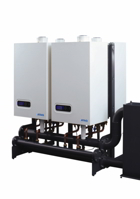 Atag Commercial's XL series of gas-fired boilers are available with outputs of 60, 95 and 120 kW. All models achieve NOx emissions of less than 30 mg/kWh to offer maximum BREEAM points. Up to eight boilers can be combined in a cascade arrangement to give a total output of 960 kW.
The stainless-steel heat exchanger has specially designed hydraulic chambers and smooth tubes to ensure water turbulence is optimised for maximum heat transfer, while minimising pressure drop.
The maintenance schedule is 16 000 h or every four years. XL boilers come with a 5-year parts and labour warranty as standard. Extended warranties of eight and 10 years are available.
Multiple boilers can be combined wall mounted in-line, freestanding in-line and back-to-back.
A pre-fabricated cascade frame can be fitted on site in six easy steps. Cascade pipework headers and cascade flue system are also available.
Other features include built-in modulating A-rated pump,, automatic air vent and modulating gas valve.
Related links:
Related articles: