Nuaire advances positive-input ventilation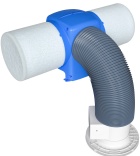 The latest version of Nuaire's Drimaster positive-input ventilation system for homes has been enhanced with features to improve its efficiency and effectiveness, as well as being faster and easier to install. Drimaster-Eco units are installed in the loft, where they can be suspended from a rafter (a very quick way to install a unit) or on the joists by a qualified electrician — in less than an hour. Power can be from a lighting cable in the loft.
Fresh air is drawn in from the loft space, which might be 3 to 5 K warmer than the outside air, through two large filters. Maintenance of the filters is minimal, with them being changed every five years.
Air is delivered to the home via a circular ceiling diffuser on the upstairs landing. The diffuser houses the system controls to provide complete control of the unit without having to go up into the loft.
An optional electric heater can warm the air before it is delivered to the house to avoid the discomfort that might be caused by cold air. The electric heater is rated at 400 W and is positioned just behind the diffuser (see picture). A heater in the Drimaster unit itself would require a rating of 500 W to offset heat loss through the 2 m of flexible duct to the ceiling diffuser. Switches enable the occupant to control the heater.
There are six adjustable speed settings to suit the property and the number of occupants. The speed is set at installation, but can be changed later.
To provide comprehensive control, a radio receiver pairs the system with optional remote and wired sensors and switches. RH and CO2 sensors enable the Drimaster-Eco to respond appropriately when moister and CO2 levels reach set points.
The wireless capability enables someone with a local authority or housing association to monitor logged operation from outside the home to provide information for resolving disputes about condensation, dampness and mould growth.
Average running costs for the 5 W fan are indicate at 1 p per day. If the electric heater is set to warm air to 10°, electricity cots are indicated at £22 per year.
Related links:
Related articles: