Delivering reliable heating performance

Achieving reliable heating in buildings requires a flexible, high-performance solution. With their improved ease of installation and outstanding high efficiencies, it's no wonder that tried-and-tested condensing boilers are ticking all boxes, says James Porter of Remeha.
Spend any amount of time working in a room that's too hot or too cold and the relationship between comfort and productivity is quickly apparent. Heating plays a key role in creating a 'well' building. Achieving the appropriate temperature through a reliable system has a positive impact on the health and wellbeing of its occupants that ultimately benefits the profitability of the organisation.
Given that heating can account for nearly half the total energy demand of the building, it's important to select reliable, high-performance equipment when designing the system. This will avoid unnecessarily high running costs and energy waste, helping building operators reduce overheads and meet environmental commitments. When it comes to specification, condensing boilers continue to top the list of reliable heat sources. Here are eight reasons for their popularity.
1.High efficiency: Condensing boilers offer extremely high efficiencies — around 98% gross calorific value — and low CO2 emissions, in compliance with the Building Regulations (England) Approved Document L2 and associated Non-Domestic Building Services Compliance Guide.
To maximise their efficiency, consultants increasingly design systems that promote lower return temperatures to increase condensation opportunities.
There is also a growing trend to install multiple condensing boilers in a cascade system. This arrangement enables the boilers to operate at part load and make full use of their modulating feature, factors which improve the overall efficiency of the heating system. Adding appropriate weather compensation or sequencing controls further optimises seasonal efficiencies.
2.Reliability: Condensing boilers deliver heat when and where it's needed. This reliability is in contrast to other equipment which can struggle when temperatures outside dip — failing to perform just when demand is at its highest.
3.Tried-and-tested: Modern buildings frequently use up to 3.5 times more energy than anticipated, concludes a recent report by Innovate UK, often due to problems with new technologies. In contrast, condensing boilers are a proven technology supported by decades of experience. The result? They do what they say on the tin.
4.Practicality: Plant rooms in both modern and existing buildings are increasingly small. With many located either in the basement or on the top floor of the building, restricted access is a common obstacle. The small footprint of condensing boilers provides greater flexibility in plant-room design. This makes them a versatile solution for all buildings — even those where larger renewable heating equipment simply might not be an option.
5.Easy installation: Modern condensing boilers are lighter and more compact, with many offering flexible features for easier installation. Large-output floor-standing boilers are often delivered on wheels for easier manoeuvrability into and around the plant room. Some can be dismantled into parts and reassembled inside the plant room. This greatly reduces on-site labour and costs while minimising disruption to the building occupants.
For projects requiring lower heat outputs, wall-hung boilers offer the opportunity to move large outputs away from the floor and onto the wall. The ability to install multiple boilers on cascade and rig systems provides a speedy, high-quality, space-saving solution to high-performance heating.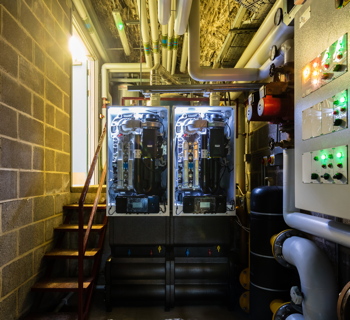 6.Affordability: Installing condensing boilers for space heating is a cost-effective solution, requiring lower initial outlay and reduced labour costs while still delivering the required high-efficiency heating.
7.Versatility: Condensing boilers are equally suited for use in new and old buildings. In both, the low NOx emissions can improve the building's environmental performance, contributing credits for higher BREEAM ratings.
8.Refurbishment: Perhaps most importantly, condensing boilers can transform the energy efficiency of existing buildings. For the UK to meet its carbon-reduction target of 80% by 2050, more progress needs to be made in increasing the energy performance of our existing buildings.
Condensing boilers are uniquely suited to achieve high-performance, reliable, affordable heat in these older buildings. Why? Because with a high proportion still relying on commercial boiler plant for heating, a simple boiler upgrade is a quick win to significant energy costs and carbon savings. Replacing failing or inefficient boilers with high-efficiency condensing boilers will typically bring considerable savings in the region of 30%, according to the Carbon Trust. It's a relatively simple step that can produce important benefits.
The next step
And far from resting on our laurels, we manufacturers continue to innovate, engineering for maximum efficiency through new equipment and smart design. One example is the arrival of compact, large-output, wall-hung boilers. These are already simplifying boiler replacement in tiny plant rooms due to their ability to meet the heat load in a greatly reduced footprint. The opportunity to install these boilers in mixed-output cascade systems brings the added advantage of more accurate matching of the heat demand for reduced waste.
Then there's the growing use of prefabricated equipment for increased quality control and easier installation. Installing multiple boilers on a bespoke designed rig system is a case in point. The bespoke rig can accommodate all client specifications from hydraulic separation to bespoke controls. At the same time, it is designed to meet site requirements for rapid installation, enabling more projects to be carried out in the same period of time.
Condensing boilers offer an effective solution to sustainable heating, creating a comfortable environment in a building while delivering energy, carbon and cost savings. The familiar casing hides advanced technology that is meticulously designed and engineered to deliver the most reliable, high-performance heating for optimum results. And, best of all, there's minimum hassle or disruption. With condensing boilers, it really is win, win.
James Porter is sales director at Remeha.
Related links:
Related articles: