CHP and boilers in harmony

In a potentially turbulent year for the construction industry, Gavin Watson of Elco Heating Solutions outlines the importance of precision when designing CHP and boiler heating in order to maximise efficiency and reduce running costs.
The Article 50 button to take the UK out of the European Union is months away from being pushed, which will undoubtedly send ripples throughout the UK economy. Of course, with investors waiting to identify the risk profile, the construction sector could be susceptible to the impending changes in our constitution. But, for every person predicting short-term pain, there is another heralding a new land of opportunity!
Certainly, at Elco, the outlook for this year is positive and, regardless of how the industry feels about the country's future, the task of providing effective heating and hot-water systems remains as important as ever. Indeed, should commercial enterprises be unduly affected by any economic uncertainty, the need to ensure operational costs remain low is as important as ever. Consequently, the use of combined heat and power units (CHP) is sure to remain a financially attractive option, with their inherent long-term efficiencies offering superb returns on investment.
Utilising CHP units alongside highly efficient condensing gas boilers is a popular strategy in many new and existing buildings, with the combination providing a practical and efficient choice for commercial applications. As always, the best time to consider CHP is at the initial design stage, where it can be more easily integrated with a new heating system. However, specifying a well-designed system is key to the success of CHP, particularly when it is married with condensing boilers.
In residential buildings, where there are often peaks and troughs in demand, ensuring a CHP unit has sufficient heat demand for extended periods is especially important. Here, CHP units work best when they have first call on the cool system-return water, which requires the plant to be properly and expertly integrated into the system design. A reasonable rule of thumb is to size a CHP unit to deliver around 20 to 30% of design thermal load. This allows a unit to run effectively in the summer, when the design heating load can drop to as low as 15 to 20% of the total design load.
Installing CHP with conventional condensing boilers, which should act as a backup, makes it even more important for the unit to have the first call on return water — otherwise, there is a risk of it not contributing as intended, in turn reducing the potential energy and cost savings during its lifetime.
Another critical aspect of a CHP system is the selection and sizing of buffer vessels and thermal stores.
At this stage, it might be useful to clarify these two products.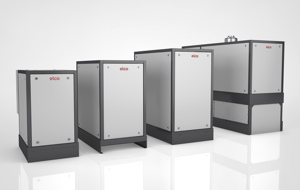 Firstly, a buffer vessel provides some thermal storage but is principally designed to provide a buffer effect between the CHP and the heating system. This protects the CHP from switching off prematurely from short-term increases in return temperature.
Thermal stores, on the other hand, are designed to hold excess heat produced by the CHP when the building's heat demand isn't sufficient. Installed between the flow and return circuits, while remaining full of water at all times, this reservoir of heat can be called upon when the building's heat demand increases.
A large thermal store is becoming more prominent in applications, with the purpose of giving a CHP the opportunity to achieve optimum running conditions. Gauging the size of a thermal store correctly brings several benefits. Firstly, it allows heat demands greater than the maximum output of the CHP to be met by utilising the heat stored from the CHP. This reduces the use of boilers and increases CHP running hours. Secondly, it enables heat demands lower than the minimum turndown to be met; once again reducing the use of boilers and increasing CHP running times. A major benefit of both scenarios is that a CHP unit can operate at full output rather than at part-load conditions – improving efficiency and reducing operating costs.
When it comes to sizing a thermal store, the annual usage of the building needs to be considered, where an hour-by-hour operating model is constructed. This will ensure CO2 emissions savings are optimised. Whereas, if the store is required to meet demand at times when the CHP is not operating, the quantity of heat energy to be held for the time period needs to be calculated.
A period of uncertainty in the UK economy this year is likely to throw the spotlight on the operating costs of new and existing commercial buildings. Consequently, heating systems that are well designed and meet modern sustainability requirements can help improve energy efficiency and reduce costs. As a result, CHP and condensing gas boilers represent one of the best long-term and truly economical options.
Gavin Watson is sales director at Elco Heating Solutions.
Related links:
Related articles: