Airflow adds VAV control to its commercial MVHR range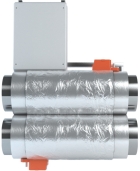 Airflow Developments has added variable-air-volume (VAV) dampers to its Duplex vent range of commercial MVHR units. The VAV systems constantly monitor the air supplied and share this information with the ventilation unit to optimise air quality and comfort by enabling the ventilation to respond effectively to the demands of each area/room in the building.
Communication between each damper and the central unit is used to enable to the MVHR system to increase or decrease the air flow quickly and efficiently based on demand. When used with humidity or CO2 sensors, these dampers can automatically adjust the ventilation based on the usage or occupancy of a room, independently of the other areas in the building.
Airflow's VAV system also provides the option of manual adjustment for applications where the user requires a level of control.
Krzysztof Kwarciak, category product manager, explains, 'Indoor air quality is increasingly being recognised as a key factor for health and wellbeing, but the reality is that ventilation requirements can vary significantly across different areas of a building and at different times of the day. The latest development to our Duplexvent range, the VAV dampers system, ensures our MVHR units can respond swiftly and effectively to these changes in demand.'
Related links:
Related articles: