Decisions, decisions… the challenges of managing energy

Catherine Kidd of eSight Energy explains what you need to know to understand your building's energy usage and improve it.
So much of being an energy manager depends on making the right decisions. It's virtually impossible to be confident in your decision making without having data and a comprehensive analytics tool to inform where to focus, make investment and then to track performance.
Here are five key decisions you'll make as an energy manager, and how energy analytics software can help you get them right.
How do I present an accurate energy target?
It is crucial to set realistic targets in order to manage expectations internally, both for financial forecasting and to ensure staff remain engaged and motivated. To be effective and achievable, energy targets must be set against an accurate baseline which reflects the varying factors that affect energy use in your business. Depending on the business, this may include variables such as production output, occupancy, time of year, temperature etc. To achieve this, a regression analysis tool is required to build an accurate profile from historical data, taking into account all the driving factors that have an impact on energy consumption.
Where do I focus my efforts to improve efficiency?
Once accurate targets have been set, the next challenge is to identify where the savings to achieve these targets can be made. An effective place to start is to break down energy consumption by location, whether that's site, building, floor or department.
This is possible with analytics software that enables you to compare normalised consumption for each location, so that factors such as building area, volume and production are taken into account to ensure a fair evaluation.
Once the energy performance of each location has been identified, it is then possible to look to emulate the practices of the highest-performing sites and also motivate personnel in lower-performing sites to improve.
To identify inefficiencies at a more granular level, such as a faulty piece of equipment, consumption profiles can be constantly monitored on regularly updating dashboards and using visualisation such as surface-mapping graphs, so that anomalies can be quickly found.
When do I intervene?
Energy usage can legitimately vary due to a number of factors, so it is therefore important to understand at what point to take action. Only with effective profiling can this be achieved.
For example, a spike in consumption due to an increased production output is to be expected, therefore an energy-management system needs to be able to intelligently recognise and normalise the increase.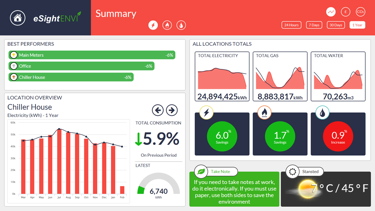 With a multi-variable regression model in place, users can then identify the genuine anomalies in energy data and react accordingly. To maintain this at the lowest impact to the user, alarms can be set up so that a notification via email is sent when consumption is at an unexpected level. The tolerated limits for alarms can either be set up manually or against an alarm profile, which patterns the typical usage for a given timeframe and only allows data within a percentage range of that profile.
When action is taken, users can mark a change point in the data set so that any subsequent changes in consumption can be clearly monitored.
In order to make cost savings, energy managers also need the ability to verify the accuracy of utility bills. An energy-management software tool can take information from a bill, compare it to actual consumption taken from the meter, and then notify users of any inconsistencies. This may be one of the easiest ways to save costs and achieve buy in from your finance department!
Which investments will improve efficiency and achieve the best return on investment?
Once the 'low-hanging-fruit' savings have been identified and efficiency of existing systems and processes improved, longer term projects to maintain and continuously improve efficiency will almost always require investment. This could involve anything from equipment upgrades, further metering projects or investment in energy-engagement initiatives.
Before going ahead, it is crucial to assess the feasibility of each project to ensure the best ROI (return on investment) in a given timeframe. In order to do this, considerations including the capital and operational costs, time to implement, payback periods and overall return must be taken into account. Software solutions with project-tracking capabilities will allow you to visualise this information with tools such as scaled bubble charts in order to select, prioritise and implement projects against an energy savings target.
How do I futureproof my decisions?
Achieving ongoing energy savings is always a challenge, but it's virtually impossible without the tools to analyse, monitor and target energy data to inform where greater efficiency can be achieved. To discover the opportunities that are harder to find, but make a real difference to your business bottom-line, further metering of smaller areas or specific equipment and processes may be necessary. An energy-analytics tool can help you choose where to place those additional meters, as well as monitor their performance to identify savings.
Importantly, energy-management software tools also offer the full reporting capabilities to track and verify savings to assure stakeholders of a return on investment, and ultimately give your business the confidence in your decisions to ensure future investments in energy initiatives.
Catherine Kidd is marketing director with eSight Energy.
Related links:
Related articles: