The big chill
With commercial building operators under pressure to reduce energy usage ahead of the upcoming Minimum Energy Efficiency Standards (MEES) deadline, now is the time to look for a heating and ventilation system that can make a significant contribution in the ongoing battle to improve efficiency ratings. Andrew Gaskell of the Chilled Beam & Ceiling Association (CBCA), explains why chilled beams represent a flexible and cost-effective solution.
The environmental benefits of reducing energy usage in buildings have been well-documented, and when the financial benefits are also considered, there are very few reasons to ignore the mounting calls to improve efficiency in commercial buildings
It is estimated that buildings are responsible for almost 40% of the UK's carbon emissions, with commercial buildings contributing a significant chunk of this figure. Whatever the challenges involved in reducing the amount of energy used, a change is clearly needed.
Upcoming Minimum Energy Efficiency Standards (MEES) for England and Wales will make it unlawful for landlords to let buildings that have an energy performance certificate (EPC) rating below E from 1 April 2018.
Research suggests that around 19% of all commercial property is in danger of not complying, potentially reducing the capital value of each non-compliant building by around 10% and wiping £16 billion of the total value of the UK's commercial property portfolio.
Those who fall foul of the MEES legislation are likely to face tough penalties, so landlords are well advised to start preparations and examine areas where potential improvements can be made. When assessing the impact of M&E services, it's well worth considering the performance of the heating and ventilation systems alongside other essentials such as lighting.
Modern commercial buildings require a modern approach to heating and ventilation. Picking the system with the lowest purchase price and failing to take running costs into account could end up proving extremely costly in the long-term.
And it is the inherent energy efficiency associated with chilled-beam technology that is chief amongst its favourable attributes that can help building operators to slash energy bills, delivering significant savings over an extended time period. An independent study commissioned by the CBCA (Chilled Beam & Ceiling Association) and carried out by Environment Design Solutions Ltd (EDSL) confirmed a significant energy-saving benefit over alternative technologies, primarily due to the reduced requirement for fans.
Passive chilled beams don't require a fan, instead circulating air by means of natural convection. The beam itself is chilled as water passes through it; the surrounding air is cooled so that it becomes denser and drops into the space below. The cool air is then replaced by naturally rising warm air from the room.
Water represents a more energy efficient way than air of distributing warm or cool air around a building because of its high specific heat and thermal conductivity.
As backed up by the independent study, all of this results in potential energy savings of 17 to 22% over alternative technologies. Over the entire lifecycle of a commercial building this can equate to thousands of pounds in savings and significantly reduce a carbon footprint — something this article will look at in more detail later on.
Away from the improvements in energy efficiency, chilled beams offer other notable advantages. Installation costs can be much lower, while maintenance costs are often minimal. This is partly because chilled-beam systems don't need a condensate-removal system as they operate above dew point (dry cooling), don't require a filter of any sort, have no moving parts or individual terminal controls, nor copious amounts of wiring.
In addition, chilled-beam air-conditioning systems offer whisper-quiet operation.
The latest solutions are also extremely flexible and allow for changes to the internal layout of the commercial building — in both open plan or cellular configurations. By altering settings and making straightforward adjustments to the chilled beam system, building owners, operators and specifiers can restructure without worrying about the impact it may have on the air conditioning and its overall performance. Modern active-chilled-beam systems can be reconfigured through the easy adjustment of the FPC (flow-pattern control) vanes and variable-position nozzles. This means floor layouts can be altered without moving or adding beams.
Traditionally, chilled beams have been categorised as either passive or active. The fundamental difference between the two is that the active chilled beam connects to a ductwork system served by a centralised air-handling unit (AHU) and delivers the fresh air via integral induction nozzles which induce secondary room air through the heat exchanger coil. In general, active chilled beams utilise the Coanda effect to deliver the conditioned air horizontally, which then enables the active beam to deliver much higher cooling capacities over that of passive chilled beams and still achieve excellent occupant comfort. Active chilled beams are also commonly integrated or recessed into suspended ceiling systems.
More recently, multi-service chilled beams (MSCBs) have become increasingly popular in commercial settings. Available as active or passive solutions, MSCBs are integrated building-services units, capable of providing a full range of services to meet specific user requirements. These include the following.
• heating and cooling
• ventilation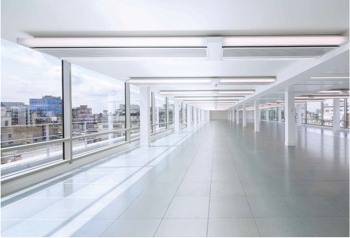 • lighting
• fire alarms and sprinkler heads
• passive infrared sensors (PIRs)
• public-address systems
• BMS sensors, control valves and condensation detectors
• data and voice cables
• audio-visual equipment
By bringing services together in this way and allowing the building operator to tailor the solution to current and future needs, costs and installation times can be significantly reduced. The solutions also eliminate the requirement for suspended ceilings — ideal in environments where room height is an issue.
The typical commercial building goes through many changes over the course of its life. Tenants may change regularly, and every new occupant will have their own ideas on setup and working environment. The building owner or operator will need a cooling, heating and ventilation system that can offer long term flexibility on top of long-term energy savings.
This is where the latest chilled-beam systems come into their own. Offering consistent energy saving over long periods of time, with reduced levels of maintenance, the superior cooling ability of a chilled beam system should ensure optimum levels of comfort throughout the entire lifecycle of the building.
Increasingly stringent energy targets and continuously changing legislation makes the building designer's job ever-more complicated, challenging them to come up with innovative ways to maintain comfortable working environments in buildings that are almost airtight.
Chilled beams can go some way in helping to solve these most pressing of issues by offering an unobtrusive, long-lasting solution that will provide efficient heating and cooling from the first moment all the way through to decommissioning.
By utilising other energy-efficient technologies such as ground-source heat pumps and heat-recovery devices and having them work in tandem with chilled beams, the modern commercial-building owner/operator can develop their sustainability credentials still further.
Demand for energy savings in commercial buildings will continue to grow, especially with upcoming MEES legislation, so chilled beams are expected to become increasingly popular in both new and refurbishment projects as building owners, designers and engineers are introduced to the benefits the latest chilled-beam systems can offer.
Refinements in technology mean that chilled beams now boast an attractive combination of efficiency, aesthetic appeal and flexibility — offering a practical long-term heating and cooling solution to commercial building owners and operators around the world.
Andrew Gaskell is chairman of the Chilled Beam & Ceiling Association (CBCA).
Related links:
Related articles: