Lowara Smart Pumps have built-in intelligence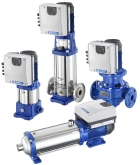 The Lowara range of Smart Pumps for water-supply and HVAC applications in commercial buildings have highly efficient speed-controlled IE5 motors for maximum energy efficiency and effectiveness. A Smart Pump comprises the pump itself, motor and variable-speed drive.
These pumps are 'plug-and-play' for simplicity of installation and commissioning. The embedded e-SM electronic drive extends the working area of a pump to maximise flexibility and enhance system performance.
The drive also enables the size of the motor to be reduced. One drive can link up to three pumps for greater flexibility and durability of the system.
The e-SM drive has embedded intelligence to prevent shocks such as water hammer — reducing damage and mechanical stress and ultimately extending the life of the equipment.
Smart Pumps have built-in BACnet and Modbus capability for seamless integration with a BMS.
Related links:
Related articles: