Gauging trends in the UK air-conditioning market

Focusing on project-completion trends in 2016 provides evidence for what drove sales of large commercial air-conditioning products such as VRF and chillers and explains why there was only marginal growth, as David Garwood of BSRIA explains. He then gives an outlook for the years ahead.
For new-build and major refurbishment work, it is the rise and fall of projects nearing practical completion that causes the rises and fall of building-services products.
The market in 2016 was quite variable, as summarised below.
• Office new-build sector was down, especially in the key London market.
• Completions in the retail new-build sector were also lower than expected.
• Office refurbishment held up and saw the same level of completions by value compared with 2015 throughout the UK and the key London market.
• Hotel new build and refurbishment increased by completions.
• The residential tall-towers sector in London saw an increase in the number of buildings completed.
In 2015, the market performed as expected. Following the cycle of construction in rises and falls in starts in previous years, confidence was still strong, so projects were pushed to practical completion.
For completions in 2016, the situation changed as tenant demand decreased (1) for office new build, caused by global economic trends and then Brexit. Plus availability of stock increased, which was caused by the high number of new starts by floor space in 2013 and 2014.
All of this was happening against the backdrop of business-rates increases in 2017. Developers did not want to complete jobs, as they only get three months' business rate relief for a vacant property, so practical completion dates were pushed back (2). The trend is that the construction cycle is extending. Retail new build saw the same trend.
So the expected rise in completions in new build in new build in 2016 did not happen.
However, as mentioned above the market did not collapse because the office refurbishment market held up and other sectors such as hotel new build and refurbishment helped to fill in the missing gap left by the drop in the retail new build.
Residential tall towers continued to do well in London too, though most of the apartments are going down the heat-recovery route as opposed to air conditioning. A considerable number of these towers are mixed developments — with retail, offices and gyms contained within the development. So though much of the primary use of the building is not going down the air-conditioning route, there are still some opportunities for sales.
Three questions arise.
• What are the future trends?
• Should we be worried?
• Have the global economic and UK trends impacted new proposals and starts?
Applications are a good lead indicator of where the market might be heading.
If the go ahead was given for approved projects, then we can make a guess where the work will come from.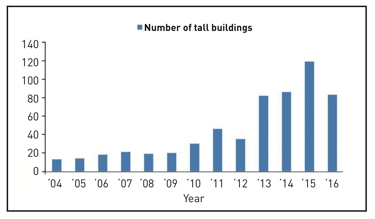 There is a decline in number of applications (proposals) for tall buildings in 2016 (3), but 2015 was skewed by Greenwich Peninsula scheme of 40 buildings. If this development is ignored, the amount of applications in 2016 was broadly similar to previous years back to 2013 (see chart).
The buzz word is 'residential', with around 82% by number of buildings is for this sector (by primary use), which is something that has been reported for some time.
The latest economic shocks might have slowed decisions down, but there is little evidence so far of a major drop yet.
Let us look at the next lead indicator — new construction starts.
2016 continued to see the number of new starts in the office new-build sector by floor space (4) at the same level for four years. However, the data for 2016 is skewed by some large projects such as 22 to 24 Bishopsgate (Old Pinnacle Building).
Despite added uncertainty due to changes in stamp duty, the impact on foreign investment and geo-political shocks developers continued to push the button on new buildings. According to the NLA London tall buildings survey a total of 48 tall buildings (all sectors) started construction in 2016, which is an increase of 68% on the previous year.
Up to 2018 the amount of completions by floor space will mainly be residential. In 2019 this will swing towards the office sector. This is when a lot of the large office projects are due for completion (4).
Within the office sector, 2017 is likely see the remaining office refurbishment work that was started in 2014 completed. The spike in new starts (4) in 2014 for this sector was not repeated in 2015 and 2016, so going forward the office new-build sector will get greater share.
At face value, it seems that the London construction market has not dropped like a stone. But decision making has been slowed, and the construction cycle is extending. Thus BSRIA throws caution to the wind as there is still a lot of ambiguity in the market, and the uncertainty of the outcome of the Brexit negotiation remains.
This makes it difficult to predict when the rise and fall of air-conditioning sales will be. Evidence from 2016 shows that even projects nearing practical completion can be stalled. Large projects are being dragged on and on until the developer is certain he has a tenant.
However, the latest indications point to a rise in practical completions in the first quarter in the London office new-build sector. But given the high amount of uncertainty, it is too early to say if this is a developing trend.
The outcomes of the Brexit negotiations could result in practical completion dates being pushed further back or projects being stopped altogether.
David Garwood is market research consultant with BSRIA.
(1) CBRE, Hewes Associates
(2) Deloitte winter crane survey 2016
(3) NLA London tall buildings survey 2017
(4) Barbour ABI
Related links:
Related articles: