Wago connectors extend scope of Helvar lighting sensor

Helvar's iDim Orbit DALI sensor package is fully IEC 60669-2-5 compliant, thanks to the use of Wago push-in cage clamp pluggable connectors. The standard guarantees safe operation within manufacturer's instructions and allows Helvar's lighting system to be specified for a wider range of projects and applications. These pluggable connectors are up to 50% quicker to install than screw types.
IEC 60669-2-5 applies to the safety and reliability of home and building electrical systems and associated electronic extension units. It covers specifications such as mechanical strength, rating, electrical safety protectors and resistance to aging, heat and rust.
iDim Orbit detects movement using PIR technology. One sensor can detect occupancy over an area 7 m in diameter, or five can be used to deliver up to 15 m coverage at a height of 2.8 m — making the system highly suitable for classrooms and offices, where lighting can be easily adapted to suit different levels of occupation.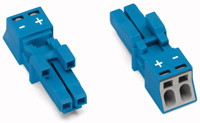 The iDim Orbit system combines the sensor with a mobile app featuring a library of standard application profiles and a profile scheduler that enables the sensor behaviour to be altered automatically or configured to suit particular scenarios.
Related links:
Related articles: