Wellbeing under control
Indoor air quality has a major influence on the health, comfort and wellbeing of a building's occupants. Graeme Rees of Trend Control Systems explains how a building energy management system can optimise comfort conditions and help keep people healthy and happy.
Over the last few years a growing body of scientific evidence has found that the air within some buildings can be more seriously polluted than the outdoor air in the largest and most densely populated cities. What's even more concerning is that, according to the Building Research Establishment (BRE), people in Europe spend around 90% of their time indoors.
In addition to volatile organic compounds (VOCs) that emit a variety of chemicals, gases, particulate matter and fibres, as well as biological particles such as bacteria, fungi and pollen, each of us exhales 10 to 75 l/h of carbon dioxide (CO2) and around 175 g/h of water vapour — creating a significant reduction in air quality over a relatively short period of time. We've all experienced the effects of poor comfort conditions in commercial buildings; a stuffy and polluted environment makes it difficult to concentrate and hard to remain alert and focused.
This is an area of great concern but nothing new; in fact, according to research by David P. Wyon in his 1996 study titled 'Indoor environmental effects on productivity', low air quality can reduce productivity through symptoms such as headaches, dizziness, nausea, aches and pains, shortness of breath or chest tightness, eye and throat irritation, blocked or running nose, and skin irritation. It can also exacerbate seasonal affective disorder (SAD), stress, depression, backache and other cardiovascular ailments.
What is new, however, is the trend towards tackling this issue and there is more and more spending on health and wellness in the workplace. When it comes to the design and operation of built environments, much of this is being driven by frameworks and standards — including Leadership in Energy & Environmental Design (LEED) and Building Research Establishment Environmental Assessment Method (BREEAM).
However, the most holistic of these is the International WELL Building Institute's (IWBI) WELL Building Standard — a performance-based system for measuring, certifying and monitoring features of the built environment that impact human health and wellbeing such as air, water, nourishment, light, fitness and comfort. A BEMS (building energy management system) can play a vital role in enhancing occupational wellbeing by creating an environment where air quality, lighting and general comfort conditions are fully optimised.
A good number of areas the Well Building Standard focuses on are directly controlled, monitored and maintained by a BEMS. It is clear how a well-designed and maintained BEMS system can help ensure that the ventilation system is providing the correct levels of fresh air, that filtration is within standard, or indeed will raise alarms well ahead of any degradation in comfort conditions should it begin to deteriorate and, importantly, before there is any resulting loss of productivity as a result.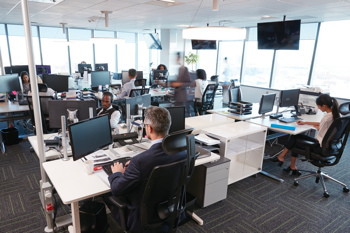 In its 'Drive towards healthier buildings' study, McGraw Hill Construction claimed that 36% of psychologists and psychiatrists believe a lack of natural light is the number one workplace health hazard. Surprisingly, there are no statutory workplace lighting levels in the UK and Regulation 8 of the Workplace (Health, Safety & Welfare) Regulations simply requires that lighting at work is 'suitable and sufficient'. As well as providing a brighter work area, better uniformity and improved colour perception, good quality-lighting also increases productivity and wellbeing; here again a well specified and engineered BEMS can ensure that the lighting systems operate in strict accordance with demand and the design intent.
A BEMS should automatically control to pre-defined setpoints — constantly tracking changes in both external and internal temperatures, air quality and lighting levels, and adjusting the heating, ventilation, air conditioning (HVAC) and, indeed, the lighting before occupants even notice that environmental conditions are changing around them. Furthermore, the data the BEMS collects allows building and facilities managers to better analyse, understand, reconfigure and improve a building's internal environment by having information presented in a meaningful and informative way.
It stands to reason that employees who are more comfortable and working in comfortable temperatures will be more industrious. In fact, the World Green Building Council claims that productivity improvements of 8 to 11% are not uncommon as a result of better air quality, while a Gensler survey found that 90% of employees admitted that their attitude about work is adversely affected by the quality of their workplace environment.
An improved working environment that has wellbeing at its centre will offer a return on any investment through improved productivity, less absence through illness and highly motivated personnel. As well as being at the forefront of the drive towards greater energy efficiency, the well-being factors are additional benefits that can be achieved through a well-designed and maintained BEMS, and the potential cost savings to a business are considerable.
Graeme Rees is marketing director at Trend Control Systems.
Related links:
Related articles: