Maximising the effectiveness of teaming CHP with boilers
Teaming up CHP with gas-fired condensing boilers offers the potential to maximise the efficiency of both technologies. David Sadler-Smith of Elco Heating Solutions discusses how to maximise the benefits of CHP when incorporated with gas condensing boilers.
A recent report by the Association of Decentralised Energy (ADE)* outlined how Britain is at risk of missing out on savings of £750 million a year by ignoring combined heat and power technology. This is certainly quite a statement and simultaneously highlights the potential of CHP when it comes to energy production. It also helps explain why so many more projects are looking to the technology to save on energy costs and reduce a building's carbon footprint.
Of course, at a commercial level (up to 50 kW), CHP can also offer huge benefits, not least of all when used alongside the established technology of choice in British heating systems — the gas-fired condensing boiler. Combining the two technologies is nothing new, but it isn't without its pitfalls, particularly if designed incorrectly.
The first consideration is the relatively simple choice of design approach. Will the CHP system be power-led or thermally-led? For most commercial applications, such as hotels, student accommodation, nursing homes etc., the premise for using CHP is to maximise efficiency when supplying heating and hot water — which is deemed a thermally led design.
In such installations, successful CHP and condensing boiler systems are designed to utilise 100% of the heat generated. This maximises efficiency levels and cost savings by avoiding unnecessary wastage of heat. Of course, to achieve this balance, the CHP module must be correctly sized. It has been said that a reasonable rule of thumb is to size a CHP unit to deliver around 20 to 30% of design thermal load, allowing a module to run effectively during the summer months when the design heating load can drop to as low as 15 to 20% of the total design load. However, there are limitations with this method.
A more thorough approach is to establish the daily load profile of the building first, as it will always define the specific requirements.
For refurbishment projects, this load profile can be easily obtained from existing monitoring systems — such as the BEMS, energy bills, meter readings or on-site audits.
For new builds, previous data from similar buildings will still provide a good starting point.
The completed information is used to calculate the site's base heating load profile, providing a regular pattern on a half-hourly, daily, weekly and monthly basis — and the more accurate the data, the more accurate the CHP sizing. Too big and there will be long periods when a CHP unit could stand idle, wasting capital expenditure. By contrast, too small and it will surely underutilise the technology's potential.
Determining how long the CHP should run each day is a key requirement of any successful installation. Unlike boilers, CHP units drop in efficiency as they modulate down, so it is best to target a running time of 14 to 17 hours per day. It's also worth remembering that Economy 7 electricity is cheaper at night, so during this period, the CHP may not be running.
A large thermal store has become more conspicuous in commercial applications recently, as it provides CHP modules with the opportunity to achieve optimum running conditions.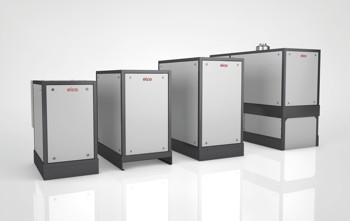 Sizing a thermal store correctly offers two key benefits.
Firstly, it allows heat demands greater than the maximum output of the CHP to be met by utilising the heat stored from the CHP. This reduces the use of boilers while increasing CHP running hours.
Secondly, it enables heat demands lower than the minimum turndown to be met, once again reducing the use of boilers and increasing CHP running times.
In both cases, a CHP module can operate at full output rather than at part-load conditions, helping to improve energy efficiency and reduce operating costs.
Successfully combining a CHP unit with gas-fired condensing boilers is critical to a project's success. A poorly designed setup can not only cause a CHP unit to turn down, reducing its efficiency, but allow the boilers to run as well, compounding the problem. To ensure this doesn't occur, it's important that the CHP unit always sees the lower system return temperature first. And, should the boilers need to come on, they will benefit from consistently low return temperatures to maximise condensing and overall efficiency. This can be achieved in a number of ways, with the various setups covered in detail through Elco's latest CIBSE-approved CPD.
Using CHP alongside condensing boilers is continuing to increase in popularity but, as outlined, there are many elements to consider in order to deliver an efficient, well-balanced system. Discussing requirements with manufacturers at the earliest stage can certainly help eliminate common issues. It can also ensure the full potential of CHP is recognised, delivering long-term benefits for all parties involved.
David Sadler-Smith is solutions centre manager at Elco Heating Solutions
*www.theade.co.uk/resources/publications/lightening-the-load-how-chp-helps-win-the-global-race-for-a-competitive-low
Related links:
Related articles: