A new generation of circulators for OEMs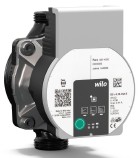 The Wilo-Para circulator for the OEM industry has an optimised and compact design with intelligent functions. It is also 'downward compatible' with the existing Yonos-Para range, making the replacement of a pump very straightforward.
Direct access to the signal connector of the Wilo-Para makes installation and commissioning very straightforward. The option to adjust preconfigured settings offers OEM customers maximum flexibility.
Intelligent functions such as maximum venting ensure reliable operation. Manual rebooting enables the pump to be restored to factory settings and subsequent reconfiguration at any time.
When it comes to the individual requirements of OEM customers, Wilo OEM Solutions offers a comprehensive range of automatically controlled pumps — Dp-v, Dp-c, n-constant — as well as externally controlled pumps via IPWM or LIN-bus interfaces for easy integration into building automation systems.
The LED interface displays the current operating status and pro-actively supports operations. A QR code offers access to current product information from mobile devices.
Related links:
Related articles: