Safe and sustainable

For building services managers water offers two major challenges - using it efficiently and ensuring it is safe. David Meacock explains why the latest technologies can support better performance when it comes to stored water.
When looking at the key issue of a building's cold water storage, despite general improvements in techniques, is this core function as efficient as it could be? And particularly in older developments? In a significant number of cases the answer must be 'no'.
The efficiency of the system is being let down by a reliance on 'old' technology for the movement of water in, out of and, perhaps most importantly, within storage tanks.
These purely mechanical solutions, such as 'old school' equilibrium float valves that provide no external warning signs, have lasted over time. But they are no longer state-of-the-art.
This inefficient operation leaves the system open to issues such as too little water in the tanks or sometimes too much, leading to large quantities needing to be dumped. Or, occasionally, flooding. In addition, poor temperature control can lead to maintenance problems such as freezing water causing stress damage in the tank. There's also the potential health risk if the water is allowed to get too warm.
Intelligent features
Although we live in technologyrich times, the electronic control of cold water storage is still relatively new and there is further work to be done to raise awareness about its many benefits. There is a misconception that there are more potential failure problems with an electronic management system than with a mechanical system.
But electronic management systems are robust, much more dynamic, prevent issues arising in the first place, increase efficiency and pay for themselves in a relatively short period.
So, let's quickly run through what an electronic tank management system is and what the benefits are when retrofitted to pre-existing cold water storage tanks. Some of these electronic systems are able to send alarms to a building management system (BMS), because they are linked to a sensor assembly suspended at full-depth inside the water storage tank which measures both water level and temperature
This electronic system can continuously feed data back and automatically opens and closes valves as required, thereby maintaining stored water levels in line with pre-set operating parameters tailored to the building's needs.
Modern electronic tank management systems, such as those offered by Keraflo, are focused on being user-friendly, allowing installers to easily set the filling valve close level; fill delay; and alarm high/low temperatures.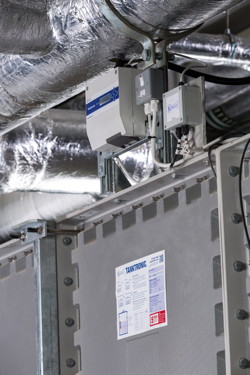 The significant savings that can be made by adding an electronic management system to existing cold water storage tanks can be increased further if considered at the specification stage, before on-site work begins. Tanks are expensive. In calculating the overall cost, the size and depth of foundations to support these large and heavy structures should also be taken into account, along with maintenance costs.
With an electronic management system more efficiently matching tank capacity to demand, the level of maintained water can be reduced. As a direct result the tanks can be smaller.
Not only will clients save on the tank size but the foundation requirements will also be less, with the bonus of resulting saved space being available to put to other, productive use.
If an electronic management system is not considered at the specification stage, there is the danger of ending up with what is, in effect, an oversized tank. This brings with it the risk of slowmoving water in the centre, a rise in temperature and the potential for harmful bacteria, such as legionella, to proliferate.
Turbulence is good
With an incorrectly set up system, cold water enters the tank and, being denser than warmer water, sinks straight to the bottom. But being at the bottom it is the first to be drawn out. This creates a 'warm zone' in the middle where the water stagnates and the temperature creeps up. Best practice dictates that to maintain the quality of the water it needs to be churned regularly.
This is a particular issue in, for example, sports stadia that are relatively unoccupied for almost an entire week, with heavy demand only on weekend match days. With a system such as Tanktronic from Keraflo, turning the water is managed automatically and if a delayed action valve is deployed its aggressive fill actively churns the water.
By adopting the latest technology, even in existing buildings, an automated approach that is able to communicate with building operators in the form of alarms, users can be assured that they are using water efficiently and also providing a safe environment for occupants.
David Meacock is technical director for Keraflo
Related links:
Related articles: