OUTSIDE THE BOX

Whether it is a school, hotel, library, gym, small office or even a large domestic property, space is a valuable commodity. Commercial property owners cannot afford to lose the space a bulky heating system or plant room takes up in their building. Owners and operators of these building are looking to get the maximum from the space they have available.
So, how do we minimise the impact of installing this type of heating system and ensure that occupants still benefit from an energy efficient boiler system? One way is to consider installing the boiler outside the premises.
The requirement to create space in a building is so important and can be easily achieved if you think outside the box with regards to boiler location. Take a school, for example, the space they have for learning is precious and if an installer can offer them a solution that moves the boiler from an internal area to the outside of the building, a whole new classroom could be created. It does not even have to take up room on the playground or sports field, the boiler could be installed on the roof making use of completely vacant space.
The commercial boiler market has seen a huge amount of research and development over the past few years with modern boilers being designed to offer effective hot water and heating delivery as well as reduced energy consumption. Boilers specifically designed for external use have also come a long way and can provide reliability, energy efficiency and cost savings.
When placing boilers outside, it is important to consider the conditions they will be situated in. A boiler specifically designed for external use will come in a weatherproof box to guarantee protection from the elements and will be resistant to dust and water. Many also have built-in frost protection.
Sometimes, in small commercial properties, the output of one boiler might not be enough to power the whole site. The solution is often to install a cascade or modular system where a number of boilers can provide a greater output. For example, the Condexa Pro Box 1000 range has capabilities up to 6.9MW. A cascade system also allows end-users to achieve better, more efficient control. If the demand within the building is high, then all boilers in the system can be working together but if the heating requirement drops, each appliance can be individually controlled and turned off to match the lower demand. By controlling the system to meet demand in this way, then the result is greater energy savings for the end-user. This can be particularly useful in buildings like hotels and restaurants, where the heat request is not constant and varies at all times not just during the warmer and colder months.
However, this solution can have a huge impact on the space required for the installation. With limited internal space, adding more units to the system causes a big headache for the installer and building occupier. By looking at external location sites, youcan offer clients the benefits of a system with a greater outputwithout the space restrictions.
Saving space is not the only benefit of installing a boiler outside; it can also reduce the level of disruption caused by the installation. If commercial heating engineers can ensure a new boiler can be easily fitted with minimal downtime or disruption to the occupants, it is going to help all parties. Taking the whole installation outside ensures a streamlined and efficient process.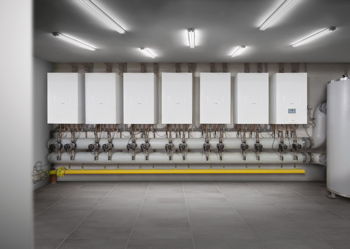 Saving time is also important factor when it comes to servicing and with an outside installation this is simple to achieve. As you do not need to come into the building and disturb the occupants. They can simply carry out the work outside. Outside units will have the components at the front of the boiler can be easily serviced and maintained from the front. If it is in a cascade system, each boiler can also be individually serviced and maintained, while the other boilers of the cascade are still able to operate. This saves time and means there is no downtime for the building and its occupants.
Just as important as saving space and time is saving energy and money on fuel bills. Commercial boilers can also be extremely energy efficient and modern condensing gas boilers are designed to burn substantially less fuel than their predecessors. Traditionally it has been believed that condensing boilers only result in high fuel savings if installed with low temperature heating outputs (such as underfloor heating). However, some boilers have the ability to keep flue temperatures as low as 3°C above the return temperature instead of the usual 25°C, which means these boilers are highly efficient for both low temperature and high temperature heating outputs.
Condensing technology delivers a combination of performance, efficiency and low running costs. Electronic control and modularity mean that these modern commercial boilers can be quickly connected to any type of heating and hot water system. Built-in temperature control and weather compensation can also maximise energy efficiency. High efficiency boilers can achieve massive reductions in fuel consumption while, at the same time, reducing the levels of harmful greenhouse gases, such as CO2 and NOx.
Looking at placing boilers outside can open up more opportunities and help provide customers with that vital commodity, space. Continue to think outside the box and look for more viable external alternatives.
Pete Sutcliffe is pre-sales & technical trainer at Vokèra
Related links:
Related articles: