Heating under pressure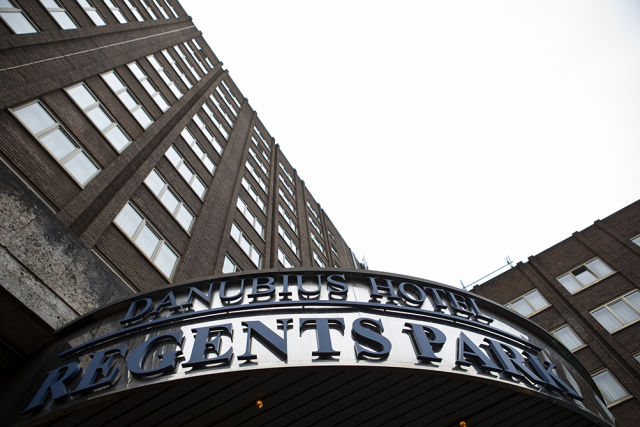 London's Danubius Hotel upgraded its boilers with a space-saving solution to provide a reliable flow of hot water for demanding clientele.
Located near Lord's Cricket Ground, Regents Park, the Danubius Hotel is a popular destination. With 360 rooms and a fitness centre, a reliable heating and hot water supply is crucial. Prior to the refurbishment, this was provided by 14 cast iron atmospheric boilers with a total output of 3,850kW. However, these were reaching their end of life.
The plant room consisted of the following:
•14x cast iron boilers split into two banks of seven boilers with individual shunt pumps
•Separate primary circulating pump (which was undersized for the system)
•AHU circulating pumps
•Fan coil unit circulating pumps
•2x split 500mm single skin flues with a N+1 bi-furcated fan
•Pressurisation unit with undersized expansion vessels
•8x 750 litre indirect hot water calorifiers with plate heat exchangers on an open vented system
Given the setup, a careful planning process was crucial to ensure a smooth transition to the new system. While the hotel had to be kept running 24/7 during the change, constant incoming travellers from local airports put extra pressure on, making down time impossible.
Contractor SPIE UK had to find a compact boiler with high maximum working pressure and heat output to accommodate the heating and hot water supply to the eleven floors of hotel rooms. Four Hamworthy Wessex ModuMax mk3 WM254/762V boilers with a combined output of 3,048kW, including pipe header kits and a remote signal kit were identified as the ideal solution.
This model consists of 3 boiler modules stacked on top of each other and can operate at a working pressure of up to 10 bar which was needed to match the height of the building. At the core sits a stainless steel heat exchanger that comes with a 10-year warranty. A small footprint of 0.74m² per boiler stack makes it easy to transport and site in narrow plant rooms.
SPIE's senior project manager says: "We chose the Wessex ModuMax mk3 boilers for their slim profile and the 10 bar working pressure. It's also efficient, compact and easy to use. I chose the pipe header because they're a simple piece of kit with a plug-and-play installation. For the controls, I chose the interface kit to give the boilers full rotation via the building management system to ensure even use across the equipment. It also allows full modular control to suit the system characteristics, meaning the boilers will match the load and operate as efficiently as possible."
A change from atmospheric to condensing boilers meant the flue system also needed to be reviewed. Firstly, the stainless steel liner up to the roof – approximately 40 metres – was removed. With the use of CCTV, the SPIE team inspected the existing concrete fabricated flue. The challenging flue installation was overcome by utilising FuranFlex composite liners in the existing chimney stacks to deal with the condensate and pressure of the new boilers.
The contract that SPIE signed with the building owners was based on zero complaint strategy, which meant absolutely no complaints to avoid damaging costs. Originally, the pipework and valves were intended to be reused. However SPIE UK's senior project manager decided it would be more efficient and effective to install a whole new 12-metre-long 400mm low loss header and interconnect the boilers to maintain a primary heat source.
The work was extensive. The existing main plant room housed the main boiler plant and calorifiers, and there was a small plant room that accommodated all ten circulating pumps. Installing the new low loss header and relocating the main primary circulating pumps down with the boilers meant it was an ideal opportunity to relocate all ten circulating pumps down where the old atmospheric boilers once used to sit. This also included the installation of new isolating valves, circulating pumps, expansion vessels, a pressurisation unit and a side stream filtration unit.
The hot water system was also upgraded. SPIE replaced eight 750l hot water calorifiers with six 1000l units and updated new cold water feed as well as secondary pipework. The works also included the change from an open vented to a new pressurised system. Again, this all had to be achieved without disrupting the supply to showers/basins and kitchens.
On the controls side, a whole new building management system was installed by Electrocom Projects consisting of:
a new motor control centre panel
SWA's (steel wired armoured cables)
VFDs for all the circulating pumps.
New primary and secondary containment.
New TPN (three-phase neutral) isolators
Differential pressure switches across pumps
Pressure differential switches across the pumps to allow variable flow system
Heat meters to monitor separate circuit demand.
SPIE's project manager concludes: "The main benefit of starting from scratch was that it allowed us to install a new system (primary) to the boilers and then start interfacing this with the old pipework, effectively creating a hydraulically separated system and 're-energising' the existing one. This is why we needed the boilers earlier than anticipated. The entire project during which we converted the heating system from open-vented to closed took us nine weeks from the start to completion."
The existing heating system was successfully upgraded while the challenge to keep the hotel running without interruption to accommodate guests was successfully met.
Related links:
Related articles: