Lessons learned
Educational facilities are rapidly evolving to accommodate new technologies, different ways of learning and environmental concerns. Toby Buckley explains the impact of these factors on building services design and installation.
Traditionally, schools and colleges were relatively simple structures but within the last ten years, design trends have shifted dramatically. This has resulted in far more sophisticated buildings incorporating diverse facilities and advanced technologies that can enhance the learning experience for students.
These changes have had a huge impact on building services, fueling the need for more advanced mechanical and electrical (M&E) solutions, which can drive efficiencies across an entire project.
To achieve these efficiencies, M&E contractors must be involved in projects during the early pre-construction stage to help develop the design and deliver the most effective solution. In some cases, that could be up to a year before the project goes to site and sometimes, without a formal contract in place so there is a huge amount of trust required on both sides.
Commercially that can be a challenge, but this investment in time offers benefits too. Early engagement means M&E contractors can work more closely with design teams and architects to develop a solution that is tailored to meet the brief. In doing so, any potential issues can be identified at the beginning, saving time and improving efficiency during installation.
One of the most important considerations in an educational facility is ventilation. Growing concerns regarding air quality in classrooms have been addressed by new Government guidelines which came into force in 2018. These were introduced to minimise the risk of classrooms overheating and to control carbon dioxide (CO2) levels, so are affecting the ventilation strategies for new schools.
In practice, this will require the greater use of systems which combine both mechanical and natural ventilation. However, this presents numerous challenges as heating and cooling systems can be difficult to integrate and consume a lot of energy - issues which will need to be overcome in the early design stages.
The aesthetics of the building's interior are another priority for educational institutions. Traditionally, the ceiling was used to hide all the cabling, pipework and ductwork that was required to make a school function, but that people didn't necessarily want to look out. But now times have changed. Exposed ceilings are becoming the norm, not only because they improve thermal massing of a room, but because they offer a much more contemporary look.
This trend means that M&E contractors must take a different approach and work more closely with clients, including local authorities and main contractors, to ensure that the building services installation is as aesthetic as possible. Electrical, mechanical and structural elements must all be coordinated as part of the ceiling design, ensuring they are set out perpendicularly and installed as neatly as possible. Upfront design work, including the use of BIM forms a vital part of this process.
Some of the biggest building design changes can be seen in the higher-education sector, largely driven by the need for more technical skills, creative learning spaces, and the latest technology.
One example is a new facility currently being built by ISG for Richmond-upon-Thames College and where REL is responsible for the M&E solution.
The £34m scheme comprises a new five-storey teaching block, which spans around 161,000 sq ft and is targeted to achieve a 'BREEAM excellent' rating. It is scheduled to open in early 2020 and will accommodate 3,000 students.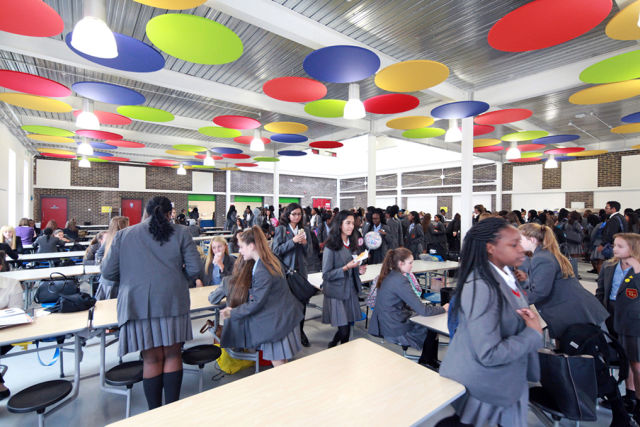 A raft of diverse facilities will be incorporated into the building, including business incubation space, a 160-seat theatre, and advanced learning environments featuring TV studios, a 3D prototyping fabrication laboratory and a digital golf studio. A chef's academy, with full commercial kitchen and a bookable restaurant space will also be created, alongside a spa and wellness centre.
Located at the college's Twickenham campus, which will remain operational throughout the work, the scheme is the latest to be awarded via the Pagabo framework, which drives efficiencies and best value across public sector procurement.   
We began evolving the M&E base design two years prior to the project going to site. Using extensive BIM modelling, this enabled us to develop a new solution that met all requirements in terms of efficiency, compliance and budget.
The latest technology, including new digital tools and signage, is prevalent across the site to help improve teaching standards as well as the overall experience for students. This is supported by highly-effective data infrastructure including more than 1,800 data points.
As with all educational facilities, reducing energy consumption is essential and in line with the London Plan, the development must achieve a 35 per cent CO2 reduction, compared to Part L Building Regulations.
A total of 228 photovoltaic panels will be incorporated as well as a 50kW air source heat pump. There will also be a Building Management System (BMS) featuring a distributed bus system that allows devices to exchange information directly. Requiring reduced cable lengths, it can integrate products from different manufacturers within a single system. This makes it easier to maintain and adapt and also to control energy consumption, therefore reducing costs.
One of the biggest challenges in terms of building services is the design of the building. The focal point of the college is a trapezium-shaped atrium which is 24m wide and over 21m tall, which takes up nearly a third of the building. A total of 81 teaching and learning rooms fork off this central space. Building services, including ventilation and smoke ventilation systems, have to be fully integrated into this unusually shaped area.
The facility's location has also had an impact on the M&E design. As it is situated opposite Twickenham Stadium next to the busy A316, which connects Twickenham to London, noise and pollution will prevent the windows from being opened. This has required the design and installation of a full mechanical ventilation system, including full comfort cooling especially in the large atrium area.
Once constructed, the teaching block will help to further enhance the college's leading reputation. Bringing together education, enterprise and the local community it will demonstrate the extensive facilities and quality standards that are now expected in many new educational institutions. This is driving the need for more skilled M&E contractors, collaborative ways of working, and building services solutions which can meet a vast range of requirements now and in the future.
Toby Buckley is managing director of REL Building Services
Related links:
Related articles: