Swegon offers new ventilation units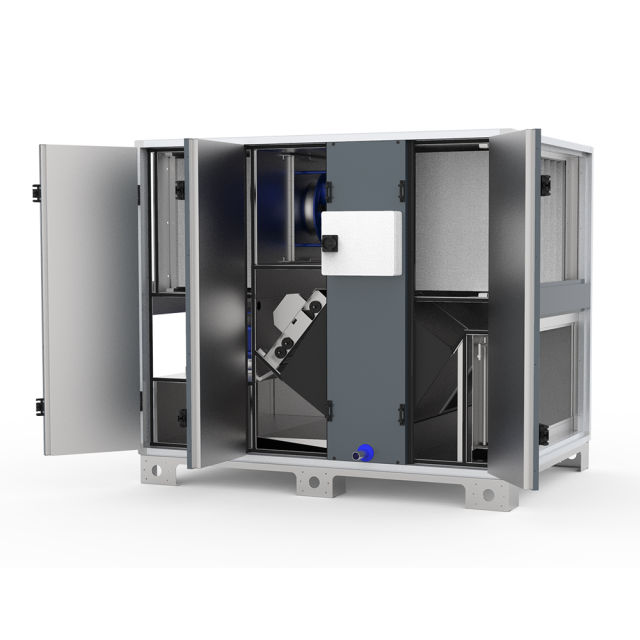 Swegon has introduced a new range of controlled mechanical ventilation units with high efficiency heat recovery to the UK market.
The new Global PX units are part of the company's suite of products designed to deliver improved indoor air quality (IAQ) in as energy efficient a way as possible. They employ high efficiency counterflow plate heat exchangers that capture energy from the exhaust air to preheat the incoming air which is used to refresh the indoor space.
There are four models in the range: Total, Global, Flat and Mural delivering ventilation capacities between 300 and 9,000 m3/hr. They include a counter flow aluminium plate exchanger, stainless steel condensate collection tray, F7 filters, modulating bypass and high efficiency (ECO) fans.
Suitable for both large residential and a wide range of commercial applications, the high efficiency ventilation units from Swegon can achieve operating efficiencies as high as 96% thanks to their heat recovery function, which meets the requirements of Eurovent certification and the international EN 308 standard.
Global PX also has a 'free cooling' option achieved by the use of a by-pass that allows the system to capture cool air overnight to pre-cool the indoor space.
All units are supplied pre-programmed in the factory so are set up to 'plug and play' including their electric pre-heat (anti-freeze) and water or electric post-heating options.
They can also be connected to an external BMS using either modbus, KNX, Wifi, Ethernet or BACnet – the installer simply needs to connect to the external power supply and the remote control or communication interface to activate the unit.
Specialised models in the range come with all the connections mounted on the top of the unit for easier installation in places where access is restricted.
Related links:
Related articles: